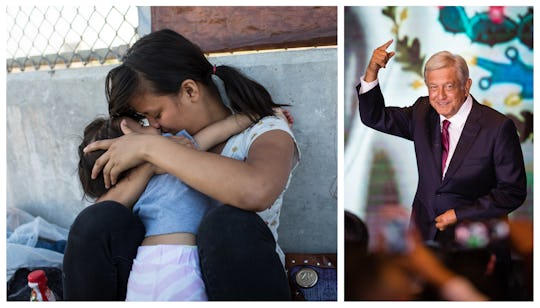 Tamir Kalifa/Getty Images/ Manuel Velasquez/Getty Images News/Getty Images
Mexico Just Elected This Family-Friendly Leftist President Who Opposes Trump
Mexico's most recent presidential election went very differently than the United States' most recent presidential election. Late Sunday night, Mexico elected left-wing candidate Andrés Manuel López Obrador in a landslide. López Obrador, known as AMLO, ran on a liberal, family-friendly platform, and many people are excited that the country has elected such a candidate. Here's everything you need to know about the election, AMLO's thoughts on immigration, and his feelings on Trump.
It is worth underlining the strength of popular support for AMLO, whose political platform stands in stark contrast to current U.S. policy. Mexico's National Electoral Institute estimated that López Obrador, 64, received more than 53 percent of votes, while the runner-up, Ricardo Anaya Cortés, only earned 22 percent, Bloomberg reported. The race had four main candidates, and the other three conceded to López Obrador based on estimates before the race was officially called. AMLO will officially assume office as President of Mexico on Dec. 1.
As in the U.S., poverty and inequality are big issues in Mexico, and López Obrador has several plans to to improve them, the BBC reported. He promised that one of his first actions will be to increase social welfare payments to the poor and elderly, and he also plans to provide more scholarships and jobs to young people to keep them from joining gangs.
During López Obrador's victory speech, he briefly commented on the issue of illegally immigrating to the United States, CNN reported. In order to remedy this, AMLO promised to "strengthen the internal market to try to produce in the country what we consume and so that Mexicans can work and be happy where they were born, where their family is, where their customs and their cultures are."
López Obrador also commented on this idea during a recent rally in Jerez, Zacatecas, TIME reported. He told the crowd, "I have a dream that there isn't emigration, that Mexicans can work and be happy where they were born, where their family is, where their culture is ... And those who want to leave go because they choose to, not out of necessity."
It will certainly be interesting to see what kind of relationship AMLO and Trump wind up having. Trump has publicly criticized Mexico on many occasions, even years before he announced his presidential bid, according to TIME. In 2015, Trump infamously announced his plan to build a wall on the Mexico-United States border. And during his June 2015 speech formally announcing his campaign, he took that notion even further, suggesting that Mexican immigrants were rapists and drug dealers. He said at the time, as CNN transcribed, "When Mexico sends its people, they're not sending their best. They're not sending you. They're not sending you. They're sending people that have lots of problems, and they're bringing those problems with us. They're bringing drugs. They're bringing crime. They're rapists. And some, I assume, are good people."
Understandably, AMLO is not a fan of Trump, and he has criticized the president for his offensive generalizations against Mexico on multiple occasions. He once called him "erratic and arrogant," CNBC reported. Most recently, he criticized the administration's family border separation policy that has forced several thousand children to be separated from their undocumented parents upon crossing the Mexico-United States border. Last month, López Obrador said that the policy of separating and detaining innocent children "goes against the most fundamental human rights," the Los Angeles Times reported.
However, during the president-elect's victory speech, he shared a tamer outlook on the American president. In the speech, AMLO maintained a respectful attitude towards the country, not mentioning Trump by name. In an English translation of his speech on his website, he said: "With the government of the United States of America, we will seek a relationship of friendship and cooperation for development, always based on mutual respect and the defense of our fellow immigrants who live and work honestly in that country."
Trump took to Twitter to comment on the election, congratulating AMLO and stating that he hopes to have a mutually beneficial relationship between the countries:
When AMLO takes office in December, it will certainly be interesting to see how the relationship between Mexico and the United States changes.