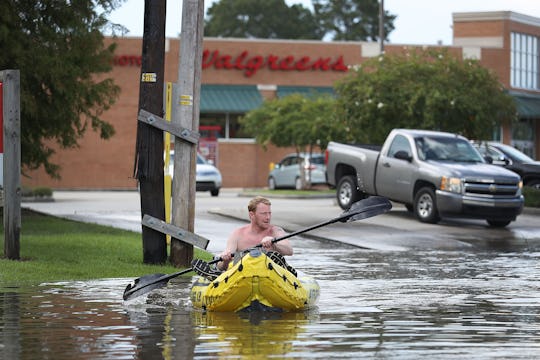 Joe Raedle/Getty Images News/Getty Images
What Louisiana Flood Victims Need Most & How To Get It To Them
Louisiana is badly in need of some relief. After the state was hit by unrelenting rainfall for days on end that has caused devastating floods, residents are in an official state of emergency. While volunteers have begun to descend on the state and rescue crews are just starting to evaluate the magnitude of the damage, what exactly do Louisiana flood victims need the most in this situation? Because people want to help, but, most importantly, they want to help in the most beneficial way possible.
Since the storms began in Friday, many areas of Louisiana have seen at least one foot of rainfall. Louisiana Gov. John Bel Edwards said that 11 people had died and approximately 40,000 homes were affected in southeastern Louisiana. As of Monday night, 8,000 people were still in shelters and more than 20,000 people had been rescued. Edwards has called the flooding "unprecedented." Now that the water has receded in some areas, Red Cross Vice President of Disaster Services Brad Kieserman estimated in a statement on Tuesday that relief efforts could cost as much as $30 million, and that estimate "may grow as we learn more about the scope and magnitude of the devastation," according to NBC News.
While more than 1,000 volunteers have arrived from all over the country, what do the flood victims need most at this point?
Money
Only about one out of every eight of the victims having flood insurance, and power outages have completely ruined the homes and businesses of thousands of people, the victims will need money to get back on their feet. Taylor Swift has already publicly pledged to donate $1 million to Louisiana flood relief efforts, and so has Lady Gaga.
Red Cross has made it easy to make donations: you can either call 1-800-REDCROSS or text LAFLOODS to 90999 to automatically donate $10. Click here for other ways to donate money.
Volunteers
Volunteers are badly needed for a wide range of duties. According to Volunteer Louisiana, volunteers are needed for the following:
Shelters
Boats (volunteers who own boats)
Pets
Feeding at shelters for one meal or more
Clean up/mucking out of houses and businesses
Packing food boxes
Collecting and sorting donations
If you have time to help out with any of these volunteer opportunities, click this link to find out how to get involved.
Donated Goods
This can be a tricky one. Louisiana Police are asking people to keep roadways clear for the time being as the water begins to recede, which makes getting donated goods like blankets and food to the victims difficult. Here are a few places in Baton Rouge and New Orleans who are accepting donated goods and will get them to the victims. As for what to donate? The United Way of Southeastern Louisiana is looking for:
Buckets, bleach, cleaning detergent, mops, Shockwave for mold, mops, brooms, paper towels, large garbage bags, rubber gloves, masks, scrub brushes, scouring pads, sponges, air freshener, toiletries, hand sanitizer, shampoo, conditioner, bar soap, hand soap, adult diapers, disposable razors, shaving cream, toilet paper, diapers for babies, baby wipes, baby food, baby formula, sippy cups and bottles, pet cages, kennels, leashes, collars, pet food, cat litter, bottled water, nonperishable food items and school supplies
Hopefully the worst of the floods is over, and the people of Louisiana can get to the business of rebuilding. With a little help from their friends.