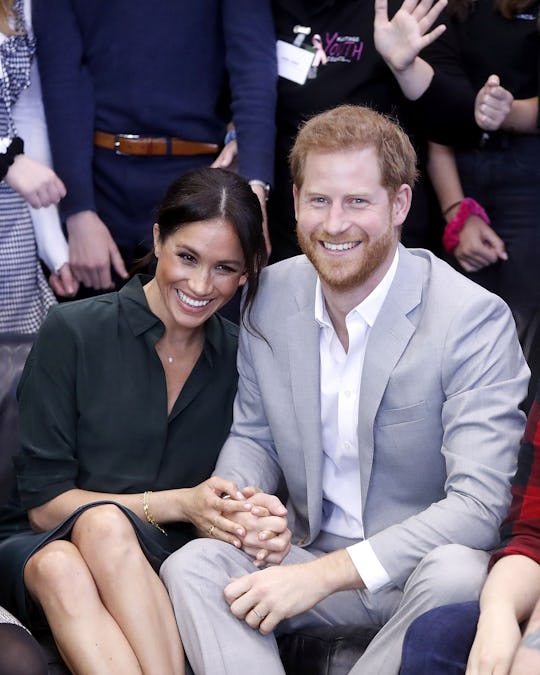 Chris Jackson/Getty Images Entertainment/Getty Images
Here's What Meghan Markle & Prince Harry's Baby *Could* Look Like
Early Monday morning, Prince Harry and Meghan Markle, Duke and Duchess of Sussex shared the exciting news that they are expecting their first baby. Fans (myself included) went wild over the announcement, and endless questions have been running through my head all morning. When is Meghan's exact due date? How did the royal couple tell the Queen? Will her maternity outfits change the face of maternity fashion forever? But one question that my mind keeps coming back to is: What will Meghan and Prince Harry's baby look like? There are so many tools on the internet to get an idea of what two peoples' baby would look like, and you better believe I'm going to try out a few of them.
The first one I used was Luxand.com's BabyMaker feature. The website prompted me to upload my photo, and then to upload my partner's photo. Luxand clearly didn't design their website with the fact that that people might be uploading two complete strangers' photos in mind (and I don't blame them for that). So, I decided to make myself Meghan, and to make my partner Harry. A girl can dream, right? I also opted for a photo of Harry from 2015 when he was clean shaven, because a beard on a baby could be slightly horrifying.
But as it turns out, the baby's face still turned out horrifying, despite using a clean shaven Harry photo. For some background, here are the very pleasant photos of two very pleasant-looking people that I used:
Dan Kitwood/Getty Images Entertainment/Getty Images
Dan Kitwood/Getty Images Entertainment/Getty Images
Chris Jackson/Getty Images Entertainment/Getty Images
And here is what Luxand.com thinks their baby will look like:
I mean... there is so much wrong with this. Why does the baby have teeth? Why is he wearing a tie? Why is this website the first to come up on Google after searching "What will my baby look like?" I'm just... I'm so sorry you had to see this.
OK, next up, I opted for MorphThing.com, a website that simply morphs two faces together — without Benjamin-Buttoning them. After prompting me to add endless dots to all of Harry and Meghan's facial features, MorphThing.com provided the following image:
Honestly, compared to the first image, this one isn't so bad! It looks nothing like a child, but it does provide evidence that Harry and Meghan's faces mesh pretty well together.
Don't worry, I won't subject you to the internet's questionable face-morphing attempts any longer. Instead, please turn your attention to these actually realistic looking images of Harry and Meghan's future child, created by a real forensic artist. Joe Mullins, a forensic artist based in Washington, D.C., has been in the field for 17 years, the Daily Mail reported. Mullins sketched a young girl who clearly takes after Meghan, and a young boy who takes mostly after Harry. Cute!
Kensington Palace revealed Meghan's pregnancy news in a very 2018 way — via social media. "Their Royal Highnesses The Duke and Duchess of Sussex are very pleased to announce that The Duchess of Sussex is expecting a baby in the Spring of 2019," the palace's official account shared on Instagram and Twitter on Monday. "Their Royal Highnesses have appreciated all of the support they have received from people around the world since their wedding in May and are delighted to be able to share this happy news with the public."
The royal couple's family is undoubtedly thrilled as well, and a royal spokeswoman told The New York Times that Meghan's mother Doria Ragland is "very happy about this lovely news, and she looks forward to welcoming her first grandchild."
No matter how Meghan and Harry's future baby looks, you can bet the whole world will be excited to welcome the couple's baby come Spring.