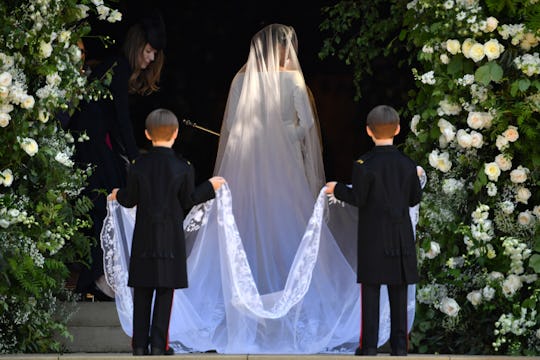 WPA Pool/Getty Images Entertainment/Getty Images
Meghan Markle's Wedding Veil Makers Took *Drastic* Measures To Ensure Perfection
If I had to create a list of incredibly stressful jobs, there's a good chance veil maker wouldn't make the list. I'd probably write down other taxing professions, like teacher or air traffic controller. Well, I stand corrected, because it turns out veil making is actually really stressful — especially when a royal wedding is involved. My evidence rests on the fact that the wedding veil makers for Meghan Markle, Duchess of Sussex, reportedly had to wash their hands every 30 freaking minutes, according to HuffPost. Someone send Meghan's embroiders a large shipment of hand moisturizer, stat.
There's no denying the dress Meghan wore at her May 19 wedding to Prince Harry, Duke of Sussex was spectacular. And one of the most notable features of Meghan's wedding ensemble — designed by Givenchy's first female artistic director, Clare Waight Keller — was her long veil. The five-meter-long veil was made out of silk tulle, and the 53 hand-embroidered flowers on the trim were fashioned out of silk threads and organza (fancy speak for sheer fabric made out of silk), according to AOL. Making matters even more special is that the flowers were designed to represent every county in the British Commonwealth, according to Harper's Bazaar.
Keller said about coming up with the Commonwealth connection, according to People:
Over time we had different conversations back and forth, and I came up with the idea of representing each of the [53 Commonwealth countries]… through their flora. And we both loved the story of that. It also meant that every single one of those countries also journeyed up the aisle with her. It was a really poetic moment. She absolutely loved it.
Of course, embroidering these flowers and creating the veil itself was no easy task. In fact, the veil took a whopping 500 hours to complete, according to Harper's Bazaar. All I can say is I hope these embroiders were paid handsomely.
As for the workshop where the veil was created, the conditions were spotless. And it goes without saying that the embroiders also had to uphold a high level of cleanliness — especially with their hands. "To keep the veil immaculate until the ceremony, the embroiderers washed their hands every 30 minutes," Keller revealed, according to People.
Wow. Did the embroiders set timers for these washings? Was there an official overseer of the washings? What kind of soap did they use? Were they given complimentary moisturizer once the veil was complete? So. many. questions.
The good news is all of the embroiders' hard work and frequent hand washing paid off. "Prince Harry came to me and said, 'Oh my God. Thank you. She is absolutely magnificent,'" Keller said about Harry's reaction to the exquisite gown and veil, according to Business Insider.
But the best part about Meghan's gown was that it represented her personal style perfectly. As for what Meghan's preferred style is, she likes to keep it classic and simple. Meghan opened up on this subject when discussing the wedding of her character on Suits. "I have the luxury of wearing beautiful pieces of clothing every day for work, so my personal style — wedding or not — is very pared down and relaxed," Meghan revealed in 2016, according to TODAY. "Classic and simple is the name of the game, perhaps with a modern twist. I personally prefer wedding dresses that are whimsical or subtly romantic."
Although I wouldn't say there's anything whimsical or subtly romantic about embroiders washing their hands every 30 minutes in a 500-hour time span, the veil undoubtedly represents these adjectives. And you've got to give the veil makers major props for working hard to ensure Meghan's wedding went off without a hitch. Bravo.