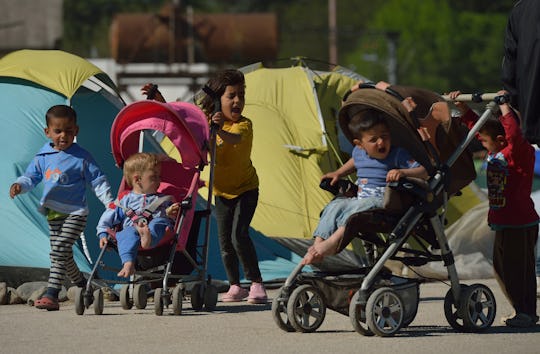 DANIEL MIHAILESCU/AFP/Getty Images
What Models Of The Pacific Cycle Stroller Have Been Recalled? Parents Are Worried
Staying active as a busy mom just got a little harder, guys. As if it wasn't already hard enough, what with the exhaustion and the crying infant and the availability of exceedingly attractive loungewear in the 21st century. Who can get motivated to pull out their jogging stroller and do some laps around the neighborhood with their tot in tow when you can eat cheese and wear leggings, right? Especially now that everyone is wondering which models of the Pacific Cycle stroller have been recalled.
The Consumer Product Safety Commission has reported that the Instep Safari, Instep Grand Safari, Instep Flight, Schwinn Turismo, and Schwinn Discover single and double occupancy swivel wheel jogging strollers have been voluntarily recalled due to a safety hazard involving the front wheel. According to the website,
The firm has received 132 reports of the front wheel becoming loose or unstable, resulting in 215 injuries, including head injuries, sprains, lacerations, bumps, bruises, and abrasions.
Pacific Cycle has pulled 217,000 strollers off the shelves. While the company is not recommending that consumers return the strollers to their place of purchase, the website does offer some options to remedy the situation.
Consumers should immediately stop using the recalled jogging strollers and contact Pacific Cycle to obtain a repair kit to secure the front wheel. The repair kit includes a replacement mechanism for securing the front wheel that uses a traditional screw on/off method of attachment instead of the quick release lever method of attachment shipped with the product, as well as new warning labels.
The Pacific Cycle jogging strollers have been popular with busy parents for a variety of reasons. The price point is good (the Instep Safari Swivel Jogger Retails for around 150 dollars, according to Amazon.com), it is reasonably light and sturdy, offers some nice features like cup holders and good protection from the sun, and can be tucked away neatly in a small car.
If other parents are anything like this girl here, they can't go a day without their strollers. So hopefully the situation resolves itself quickly (or some of you already know how to fix that wheel to keep on moving). If you're concerned that your stroller might have been part of the recall, you can check the codes here.
Otherwise... you might have to let your toddler walk places. And take it from a veteran: that can only spell trouble for all parties involved.