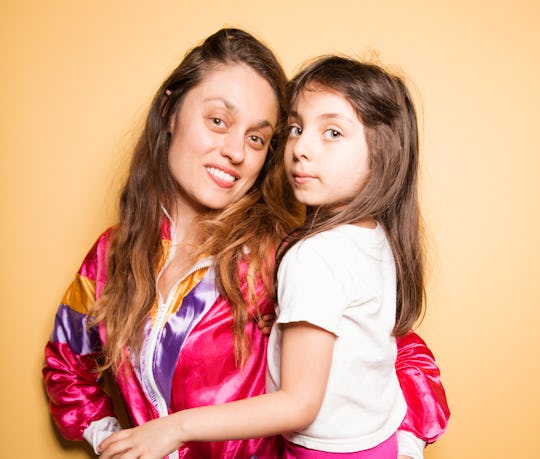 Julie Kottakis and her daughter. Photo © Mindy Tucker
A Tight Ten On Demon Babies: 6 Comics On The State Of Mom Comedy
Somewhere in between talking about your fears of giving birth to a "demon baby" and bringing up placentas, you can lose a crowd. Comedians who are mothers have to hone their sense of what will work on stage, as Los Angeles-based comedian and self-described "handsome lady" Erin Judge found out a few months ago.
Judge, who now has a 3-and-a-half-month-old son, hosted a show "extremely pregnant," overdue, and in the midst of contractions. "Every time I climbed up on stage, I felt like people in the front row would spot me with their hands up," she tells Romper.
Many comedian friends and Gen X comics had tackled pregnancy in their stand-up before her, so Judge "thought it was very doable" when she reached that stage herself. She believes audiences are more primed for comedy about motherhood "because it's something a critical mass of millennials are going through in their lives."
Plus, it's rich material. Everyone makes the same joke about the weirdness of having a penis inside you when you are carrying a boy, noted Judge in an understated set, "Erin Judge is going through some things," in which she riffed on fears of birthing a demon baby (a universal topic, it turns out). But "it's all absurd, man. It's absurd that you grow a human in your body. It's absurd that for a while I had two brains in my body."
She's not wrong.
From Ali Wong's two comedy specials, both performed while pregnant, to the work of Chelsea Peretti, Laurie Kilmartin, and other working stand-ups, to the success of comedian Frankie Shaw's show about a single mother in south Boston, SMILF, Sharon Horgan's Motherland and Catastrophe, and Alison Bell and Sarah Scheller's The Letdown, the comedy landscape has changed for performers who are possibly, maybe, thinking about birthing something other than an hour-long set. There is more space for stand-up about motherhood, more comedians who have children working the circuit. Comedy clubs with a membrane of rum-and-coke encasing the tables suggest a certain type of performer, but beloved book stores with manifestos by Rebecca Solnit and Chimamanda Ngozi Adichie on the shelves are just as important a venue for the work women are doing. We are having, as they say, a moment.
Let's all admit that we have consumed male comics talking about their dicks for years upon years and pretended that was universal, when how was that universal?
When she was doing comedy in the early '90s, Laurie Kilmartin, a finalist on NBC's Last Comic Standing, author of Dead People Suck: A Guide For Survivors Of The Dearly Departed, and staff writer on Conan, recalls, "if guys didn't want to hear too much about periods, you didn't talk about it."
But Kilmartin, who has a tween son, has seen a huge shift in the last five years, especially. "There's a lot more women [comics] and a lot more people in the audience who don't feel bound to those rules that were made by people Tim Allen's age." A broader shift in society filters through to comedy, she explains, pointing to the work of comedians like Emma Arnold as on the leading edge. "We're a month behind the audience's always-changing sensibilities."
But it's a tricky game. The gatekeepers are still often male; comedians are still introduced as "a very funny lady"; the chaps who show up to a basement comedy club at midnight on a Tuesday frequently tend toward the male and childfree. Just as my son left a few spooky brain cells in my skull after his departure from my uterus, there are residual effects of men's domination over comedy for decades. Mom comedians are still pushing the boundaries for what they can say on stage... in rooms that sometimes still require a pregnant comedian to "break the tension" around their unannounced baby bump with a quip, as New York comedian Julie Kottakis, who has an 8-year-old daughter, found. These comedians are still normalizing, in a sense, the female experience.
Author of Screw Everyone: Sleeping My Way To Monogamy, and host of NPR's "Ask Me Another," Ophira Eisenberg became a mother in 2016, and now does a lot of parenting comedy shows, where, funnily enough, lots of people without kids show up. "We sort of joke with them, 'Why are you here?'" she says, "but let's all admit that we have consumed male comics talking about their dicks for years upon years and pretended that was universal, when how was that universal?"
It's an observation that speaks to the feats of strength women comedians must perform before they graduate from open mics. In its larval stage, comedy takes place in basements where comics have as little as two minutes to try out their material in front of a crowd hostile to newcomers. "You will often hear that there are just not as many female comics as men. I don't believe that that's true," says Carolyn Castiglia, a 15-year veteran of comedy who has appeared on Comedy Central, NBC, and at the Edinburgh Fringe Festival. "It's pretty even, I think a lot of women get turned off because 22-year-old boys tell some awful jokes."
Once a comic breaks into paid work, she is still up against bookers who are quick to write mothers off. "Some guy was like, 'I don't want to ask you to do the show, you should be at home,'" says Kottakis, who started out in comedy shortly before she found out she was pregnant, and called her comedy album Tiny Roommate. Kottakis says she would blame anything but the babysitter when she couldn't do a gig.
Eisenberg, who is often asked at road gigs, "Where is your child?" ("Would you ask any man going on a business trip are you bringing your child? Would those words ever come out? Never!") also found her early days as a mother challenging.
"I didn't feel like I could say to a lot of these bookers, 'I can't [do the 1 a.m. spot], because I'm a new mom,' because I feared that they would go 'OK, great!' and put a line through my name, and that would be that," Eisenberg says.
So they take a break or gut it out ("Comedy is so ruthless that everyone is happy when someone quits," Kilmartin says). The experience of having or being a child is common to every audience ("as it turns out, for us to be on this planet, we have to have had a parent," Eisenberg observes), but that doesn't make parenting an inherently funny topic coming from a mom.
Once you're a mom it's hard to do the jokes about Tinder that you have.
"The truth is I write Screw Everyone, and everyone in the entire world wants to hear a fun dating story or about you having sex with a random person, nobody wants to hear about you having sex with your husband or long-term partner. Nobody wants it!" Eisenberg says. "That book is not a comedic memoir — that is like health and wellness. It's a very different feeling."
"There goes a lady talking about her lady stuff," is a hazard of the job, Kottakis says.
Plus, after baby, you have to start your act from scratch.
"One of the hardest things to deal with as a standup is a major life change, because while it is a source of material, it also alienates you from your existing material," Judge says. "So a lot of women go on hiatus when they first have a kid, partly because you are tethered to your kid, especially if you're breastfeeding, but also because once you're a mom it's hard to do the jokes about Tinder that you have."
Therein, worlds collide. It can be challenging to reconcile an audience's idea of a mother ("wholesome" mom comedy, as one comic described it) with filthy chit-chat and hyperbole.
For example, though many male stand-up comics have covered birth, it remains a very female experience, certain aspects of which Judge has found floating somewhere on the edge of what an audience will go with you on.
"I want to talk about my placenta, which is ridiculous to me because why would anyone want to talk about the placenta—" Judge begins laughing at the concept before she can even finish, "—AND YET it is shocking to me that this thing was inside my body!" She says that she's not sure if the audience is "grossed out" or "doesn't have enough context" around what a placenta is, but "I get blank stares when I try and do those jokes."
For Kottakis, being a single mother is a topic she has to treat carefully.
"Dads jump on stage and are allowed to say anything they want about parenting, how crappy it is, et cetera," but Kottakis has seen crowds turn on her quickly when she made certain jokes about her situation (the strangest reaction was "we're paying for your welfare!"). As a single mother, she says, "you can't just go up there and complain about it, it has to come from the right place."
Kilmartin, who is also a single mother, has toyed with that convention. "We're so conditioned to be protective of children that if you can make a joke about the worst possible scenario," like, say, wanting to throw your baby out the window, "that's almost a relief, like ugh, good, I'm so tired of taking care of these china dolls." Her book, Sh*tty Mom: The Parenting Guide For The Rest Of Us follows a similarly forgiving format.
You can take a woman who does the same jokes men do and they get praised and we're dirt.
The veeery unapologetic Patricia Williams, a comic who uses the stage name Ms. Pat and has appeared on Last Comic Standing and Marc Maron's WTF, says you have to speak your truth regardless. "My daughter-in-law had an ugly baby," she offers by way of example. "Tell your truth, let's be honest. We sit around and we say 'that baby is ugly.' My son was ugly. He's going to grow out of it," she laughs.
But as a comedian who has been touring for years, Williams is the first to admit that there is a double standard at work. "You can take a woman who does the same jokes men do and they get praised and we're dirt. I hear men do blow job jokes all the time and they never get labeled dirt."
When she started out as a comedian at age 30 with two biological children and four nieces in her custody, Williams says she "went down the lane that most females do, man-bashing, stuff like that, and when I got into the kids [material], I found that they were a little bit more interesting than the bedroom."
For Williams, especially, comedy was survival starting out. As she explores in her book, Rabbit: The Autobiography Of Ms. Pat, she dealt drugs and was incarcerated before trying stand-up. An established name now, she has batted off labels like "urban comedian" ("they mean Black," she says) and "mom comedian" to become a comic seemingly in her own category, and agrees that stand-up is about power.
"Some female comedians go directly for the woman [in the audience] so the woman can get on their side. I don't do that. I want that middle-aged white man to laugh at me, I want that black dude with the hat turned and the grills [on his] teeth or the educated black dude who probably didn't grow up like I did, or the old white man who doesn't even have a black friend, to laugh at me."
Still, you cannot force an audience to go with you.
"When they're laughing, you assume they're on board and they're following you, but that's not always necessarily true," says Judge, whose bits about her bisexuality have sometimes been misconstrued as a setup. And experienced comics have a fine sense for when an audience isn't there. "A lot of times because I'm a little bit insecure, I'll shift gears — we're not going to talk about what I want to talk about, we'll talk about something else."
Comedy has certainly come a long way from the days when, as an amateur comedian, I felt I needed an invisible rain jacket to protect myself from all the invisible jizz being tossed from the stage, Louis C.K.-style. But men are still performing soliloquies on the nobility of rape jokes (which Solnit once described as an "indicator species" for comedy's evolution), while many female comics continue to slough off value judgements that "I don't find her funny" or "I didn't laugh once" — essentially "she is not handsome enough to tempt me" for the age of Tinder — made with a complete disregard for the point of view inherent to the answer.
The answer has been in part to create more women's spaces in the comedy world. Castiglia teaches women-only comedy classes at the PIT in New York, where she also runs "Extra Sauce," a "feel-good comedy show," and she is involved in Gold Comedy at the Williamsburg Hotel, an initiative that encourages girls to try stand-up.
Kilmartin says comedy bookers also need to be asking themselves, "Is it three straight guys in a row?" and working to cast more diverse shows. She says it is simply good business.
Much of the movement in the wobbly lines that define comedy pulses through the viral Netflix comedy special recorded by quiet Tasmanian comedian Hannah Gadsby, who speaks about the way the traditional stand-up format "cauterizes" truth into a neat punchline. As Nanette got more and more coverage, objections began to crop up across the internet by comedy purists declaring her set to be "not stand-up." It was the grunt of an establishment throwing about sandbags to protect its walls from water damage.
I ask Kottakis where those criticisms were coming from. "Well, men, I didn't really think about it, but, yeah."
I'm still trying to figure out how to tell as much of the whole story of myself as I can.
When a woman not only upstages other comics, but deconstructs comedy and uses the spare parts to make an elaborate and moving statement about the limitations of the art form, the knee-jerk reaction is to move the goal posts and declare, essentially, that didn't count.
"I think people get threatened by this whole idea: Is what I do wrong? Is it not comedy?" Kottakis says.
"A lot of people out there want to categorize it, 'It's not a comedy special, it's a TED TALK WITH JOKES. It's a this. It's like, oh my goodness, let this thing be," says Eisenberg, who loved the "meta-ness" of it. "The same people who are saying what they think it is and what it isn't are people who, for the most part, would like to think that their work would stand in different comedy venues."
It's a catch-22; if a comedian uses hybridity or mimicry to adapt an art form "designed for men by men," as Gadsby puts it, it's easy for others to declare that their work is "not pure." (Well, duh.) Many mom comedians do operate outside the world of stand-up, instead finding an audience on Instagram, YouTube, and Twitter, through their podcasts, or in storytelling formats like the Moth, in part because the audience and format are more amenable to female stories.
What all female stand-ups understand, as artists who have been forced to adapt and innovate, is that comedy has never been pure, has never been perfect or stable.
"I'm still trying to figure out how to tell as much of the whole story of myself as I can," says Judge, whose goal has been to "make people like me who might be plus-size and queer and growing up in environments where their families weren't necessarily accepted ... feel seen." She now feels that way about the hardships of new parents.
Williams, meanwhile, is looking to bring her story to a new format: television. She is working with Lee Daniels to adapt her autobiography into a scripted show — a project that is overdue, she says. "It's been a long time since a black mama was on TV."