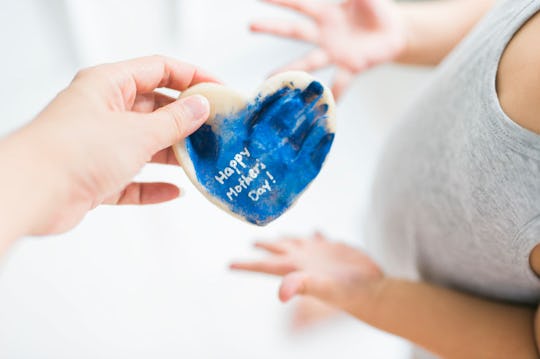 Alita Ong/Stocksy
What Mom Means When She Says She 'Already Has Everything' On Mother's Day
With Mother's Day around the corner, you're likely being bombarded with advertisements for holiday-related sales and suggestions for the perfect gift and advice on what "every mom wants this year." It's all very lovely and well-intentioned — of course mothers deserve a day of gifts and special treatment! — except that moms might be the most notoriously difficult-to-shop-for demographic on the planet. Ask a mom what she wants and she'll tell you nothing, but is it true? What does a mom mean when she says she already has everything?
First of all, she's probably lying. (But don't be offended; it's for your own good, she thinks.) Because there's always something a mom wouldn't mind receiving at any given point in time, whether it's a practical kind of present that she can use forever (like one of those pretty new Kitchen-Aid mixers) or a one-time-only, splurge-worthy experience (like a day at the spa). Why won't she just come right out and ask? As a mom-of-three, I have a hard time getting comfortable with the idea of accepting gifts from my children for multiple reasons, and I suspect lots of other moms feel the same way. (This of course does not apply to any Mother's Day gifts brought home from art class or picked from the backyard, which are literally priceless.) In fact, most years, I'm not in the market for a traditional "gift" at all... because what I really want, you can't buy in a store. (And I know I'm not alone on this one, either.)
These are just some of the things moms like me might mean when they say they already have everything they could ever possibly want or need.