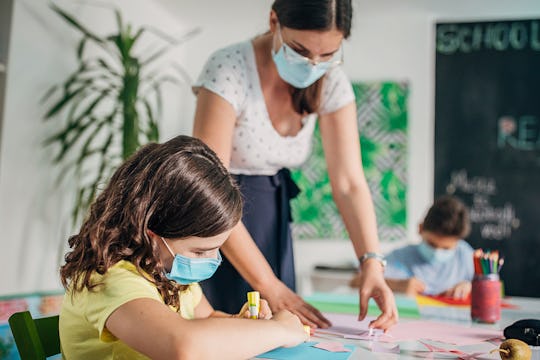 South Agency, Getty Images
Paraprofessionals Know You're Worried, & They're On Your Side
Because the 2020 school year has involved so many unknowns, getting an insider's look at education during COVID-19 can be eye-opening. Teaching assistants understand how the pandemic is affecting both students and instructors, and there's so much paraprofessionals want parents to know about the 2020 school year. It's a weird time for just about everybody involved in education, but their advice may speak to some concerns you have.
For the most part, the paraprofessionals who shared their insight for this piece had one resounding statement: educators are really trying to make the best of the distance learning situation. "I would assure parents that school districts are going above and beyond to make this academic year as productive as possible," Wafa Asad, a teacher's assistant for grades seven and eight in New Jersey, tells Romper via email. "Their children are in good hands." For the most part, educators are doing everything they can to keep students engaged during this strange and unprecedented school year.
"We are... keeping our energy at 110% the whole time, keeping our students motivated, because it's tough on them," Lauren McKeown, a co-teacher for the first-grade boys classes at Southwest Leadership Academy Charter School, tells Romper. "We are trying to make things new and creative every day to try to keep them on their toes and interested in looking at their computer all day." For the most part, parents, teachers, and kids are all in this together.