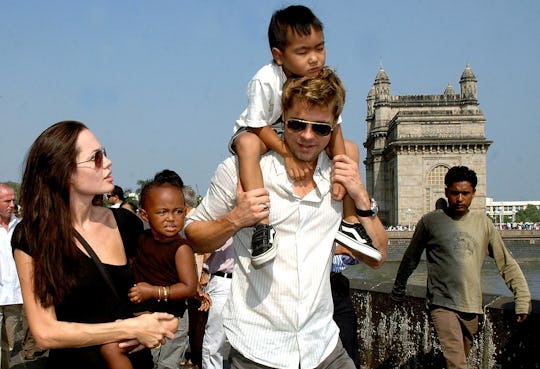 STR/AFP/Getty Images
What Parenting Disagreements Did Angelina Jolie & Brad Pitt Reportedly Have?
When Brangelina announced they were splitting up, the internet totally lost it. Heartbreak immediately hit the headlines because for the last decade, Brangelina's been one of the most beloved Hollywood couples. According to some reports, the couple, who are parents of six, have split over some irreconcilable differences in parenting. What parenting disagreements did Angelina Jolie & Brad Pitt reportedly have? Could they have lead Jolie to file for divorce? A request for comment to Jolie and Pitt's reps regarding the speculation wasn't immediately returned.
Although the couple only married back in 2014, they had been together for at least a decade — having met on the set of Mr. and Mrs. Smith back in 2005. They began dating shortly thereafter, once Pitt divorced from his then-wife Jennifer Aniston. Jolie had been married twice before: to Jonny Lee Miller and Billy Bob Thornton.
Jolie already had adopted three children: Maddox, Pax, and Zahara, and together with Pitt, they added three more children to their family: Shiloh, and twins Vivienne and Knox. The Jolie-Pitt family traveled extensively all over the world, and split their time between their homes in France, New Orleans, Los Angeles, and New York City. Jolie's preference, according to a source who spoke with US Weekly, was to home school the children so that they could continue to travel. Pitt, however, may not have been as keen, and sources suggest he would have preferred for them to enroll in school.
It may have been this fundamental disagreement about how to raise their six children that caused their marriage to unravel, if the speculative reports are to be believed. In past interviews, Jolie has said that Pitt was the stricter of the two in terms of parenting, and it's possible that she did not agree with his disciplining methods (though, of course, none of those rumors have been confirmed).
In an interview with The Telegraph, Pitt was asked if he was usually the disciplinarian in the family, "I am with the boys," he said. "Girls do no wrong so I don't have to be." Though, he also added that, for all the kids, he wanted to "help them find what they want to do with their life, put as many things in front of them, and pull them back when they get out of line, so they know who they are."
Sources quoted in US Weekly, who may be friends of the couple, point out that Jolie may not have disciplined enough, contributing to the feelings of "chaos" in the house that Pitt admitted to in his Telegraph interview. Striking a balance can be difficult, and any child definitely has a different personality when it comes to how they respond better to certain methods of discipline. For parents, it can be a challenge to get it right. For super famous parents, it's a challenge that's also under constant scrutiny.
While the reasons for Jolie's divorce filing on Sept. 19 are still largely based on speculation, her lawyer stating only that the divorce was the result of "irreconcilable differences," divorce is always difficult for families, and hopefully the Pitt-Jolie kids will be spared too much negative attention from the media going forward.