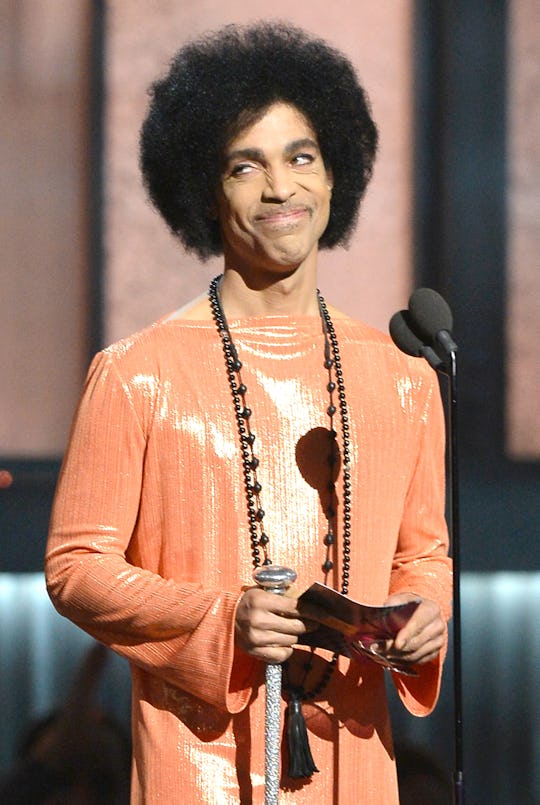 Kevork Djansezian/Getty Images Entertainment/Getty Images
What Prince Kept In His Fridge Will Make You Love Him Even More
Ed. Note: Prior to posting this article, Romper failed to notice the date on The Heavy Table's article: April 1, 2011. Consider us fooled. We regret this error.
EARLIER: For some fans, Prince was untouchable. For others, he was relatable. But I'd like to think he sat at the perfect intersection between those two adjectives — Prince, who died at the age of 57 Thursday, tapped into all of our inner weirdos, while still being an enigma himself. He opened himself to all of us during his concerts, but still managed to surprise us when we learned more about the artist known as Prince. Like, when we learned about, say, Prince's basketball skills. Or, even better, when we learned about what Prince keeps in his refrigerator.
Back in 2011, the Minneapolis-St. Paul food and drink publication The Heavy Table featured that very thing, detailing what food hometown hero Prince, who died in Minneapolis, likes to keep chilled for when cravings occur. It's hilarious to think that the singer would participate in such a fun feature, but, as I mentioned, this is what you get from an enigma with a killer sense of humor. (As friend Spike Lee pointed out on Instagram after his death.)
Even The Heavy Table noted just how bizarre the ask, and the eventual answer, was. As the publication wrote:
We knew it was a long shot ... We weren't surprised that we didn't hear anything back for eight long months. We were surprised when the response wasn't a curt "no." Instead, it was: "We have some conditions."
Like Prince would not be present, the feature would not reveal where Prince lived, and the feature could not use any photographs. Like I mentioned, an enigma.
But it was well worth the workarounds. Because what was revealed to have a permanent presence in Prince's fridge?
Five pounds worth of Dunkaroos.
I'm not joking. Five pounds of Dunkaroos. As if Prince couldn't be more relatable in his weirdness, in his tendency to not fit in but kick ass anyway, the guy kept five pounds of our favorite '90s snack with him always. He explained to Heavy Table:
"Don't know what 2 say about Dunk-a-roos. They're just good! Sometimes you want a food that is comfortable and takes you back. For me, it's those crazy little kangaroo crackers."
#Same.
As for the rest of its contents, Prince keeps homemade kimchi, 18 types of mustards, yak milk, and more. (Check out Heavy Table's story and illustration of Prince's fridge for the full list). But he had us, and will always have us, at Dunkaroos. Thanks for showing us just how good it feels, and delicious it is, to be weird, Prince.