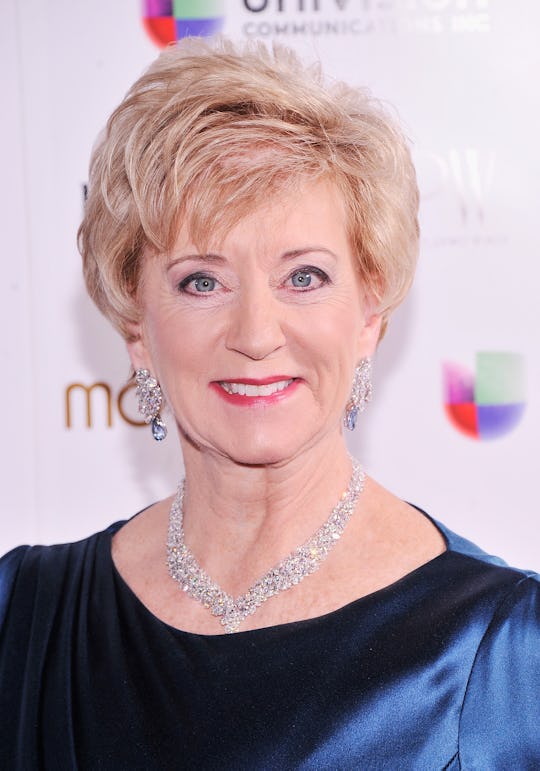 Stephen Lovekin/Getty Images Entertainment/Getty Images
What Role Will Linda McMahon Play In Trump's Administration? The Former WWE Exec Is In
A longtime Donald Trump friend who donated millions to his presidential campaign and has supported a lower corporate tax rate is the latest nominee to the president-elect's growing Cabinet, representatives for his transition team announced Wednesday. According to a statement from Trump, this particular pick is "one of the country's top female executives advising businesses around the globe" who will "champion for small businesses and unleash America's entrepreneurial spirit all across the country." For those reasons, the transition team stated, Former World Wrestling Entertainment (WWE) founder and CEO Linda McMahon earned a role in Trump's administration as the administrator of the Small Business Administration. Once reportedly under consideration for the Cabinet-level position of Secretary of Commerce, McMahon is a super wealthy Republican donor who herself ran twice for a Senate seat in Connecticut, failing both times.
Trump's known McMahon and her husband, Vince McMahon, for decades, and she contributed $6 million to a pro-Trump super PAC after her preferred primary presidential candidate, Chris Christie, dropped out of the race, according to CNBC. Although she once blasted the way Trump talks about women as "deplorable" in an interview with Katie Couric, she's now all-in for the soon-to-be president, and to run the SBA, which operates in all 50 states and helps Americans to grow businesses by delivering "millions of loans, loan guarantees, contracts, counseling sessions and other forms of assistance to small businesses," according to its website.
Trump — who has proposed decreasing the corporate tax rate, which currently sits at 35 percent, by more than half, to 15 percent — hopes that the 68-year-old McMahon will be instrumental in generating stronger job growth in the country as well as easing regulations on corporations. He believes she will be able to do this, as was first reported by Reuters, because she grew the WWE from a fledgling, "modest" 13-employee business to "a publicly traded global enterprise with more than 800 employees worldwide."
McMahon has bounced back from her failed Senate bids in 2010 and 2012, during which she reportedly spent a combined $97 million out of her own pocket — now, her Twitter bio identifies her as the founder and CEO of a organization called Women's Leadership LIVE, which is dedicated to "equip[ping] women to become leaders in their respective industries to meet these challenges while forging strategies to help them build on current successes."
Despite her apparent mission to support businesses and their owners, especially women, McMahon has never held elected office, according to NPR. Trump, on the other hand, has a long history with the WWE, having once "defeated" Vince McMahon in a WWE "Battle of the Billionaires" and being inducted into its hall of fame. Make of that what you will.