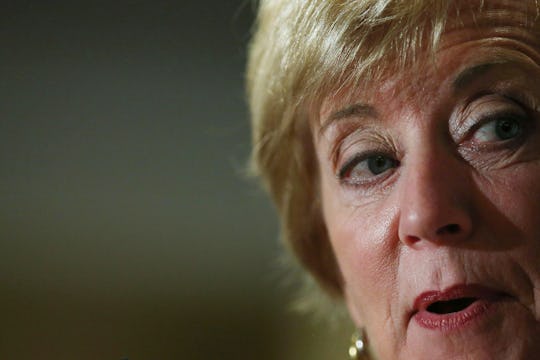 Spencer Platt/Getty Images News/Getty Images
Will Linda McMahon Be Secretary of Commerce? The Former WWE Exec Is A Friend Of Trump
On Tuesday, amid media reports that Donald Trump's transition efforts were in disarray and his team's work to fill Cabinet positions for his nascent administration enduring the hiccups of the ill-prepared, the new president-elect tweeted that he had it all under control. "I am the only one who knows who the finalists are!" he wrote, communicating suspense and drama in evoking the ethos of both his background in reality television and his decades-long history with professional wrestling. It's no surprise, then, that the bombastic victor is reportedly considering appointing onetime World Wrestling Entertainment exec Linda McMahon as his Secretary of Commerce, a move that would align neatly with Trump's M.O. of valuing friendship and loyalty over practical experience.
NBC Connecticut reported that McMahon's was one of the names under consideration for the role on Sunday, after New Jersey Gov. Chris Christie was dramatically fired from heading up the transition team, but before reports surfaced that political infighting among Trump insiders had catapulted the process into tumult. McMahon ran losing campaigns for a Connecticut Senate seat in 2010 and 2012, but she's embedded herself into the country's political fabric nonetheless: As a "Republican mega donor," she's contributed large sums to conservative politicians, including presidential hopefuls, supporting first Christie and then, after he ended his bid, her longtime friend Donald Trump, NBC reported.
Trump, of course, is known for the twin characteristics of a seething vindictiveness and valuing loyalty above all else, so it's not shocking that he would tap the rich, well-connected McMahon, whom he's known for decades, for a position within his administration — even though her actual government experience includes only serving on the Connecticut Board of Education for little more than a year starting in 2009. He did, after all, reward the former head of the alt-right website Breitbart News, Steve Bannon (who worked for a few months as Trump's campaign CEO), for a job well done with a White House position as chief strategist recently — an incredibly controversial move because of the reportedly racist, anti-Semitic, misogynistic, and allegedly false nature of much of the site's content.
McMahon hasn't always been the Trump stalwart that Bannon has, though. In a Yahoo interview with Katie Couric in March, she lambasted Trump over his comments about women. "He's not helping, certainly, to put women in the best light," said McMahon, whose Twitter bio identifies her as the CEO of an organization called Women's Leadership LIVE. "Maybe he regrets [his comments], maybe he doesn't. I realize he punches hard when he punches back, but that's just over the top."
Still, she was all-in for Trump when he pulled of his stunning and widely unexpected win last week:
And Trump has been all-in for pro wrestling for nearly three decades, frequently participating in WWE events alongside the organization's chairman and CEO, McMahon's husband, Vince McMahon. He hosted two WrestleManias at his Trump Plaza in Atlantic City, "defeated" McMahon (remember, it's all scripted) in a "Battle of the Billionaires," according to CNN, and even earned himself a spot in the WWE's Hall of Fame.
It would certainly be quite Trumpian to seek out another very, very wealthy person to serve with him in the White House. McMahon reportedly spent a total of $97 million out of her own pocket on her two Senate bids. Unlike Trump, though, who said right before the election that he would consider his campaign the "single greatest waste of time" if it wasn't successful, McMahon told Bloomberg that she discerned value in the endeavors despite failing twice:
I feel really good about what I've accomplished. So many people have said, "You've made me think that I can do something. You've made me look at things a new way." I think people were more thoroughly convinced the second time around that I was passionate about these issues.
Normally, Trump likes winners exclusively. Apparently, he nevertheless recognizes something in McMahon, in all her WWE glory, that he believes would be an asset to his team.