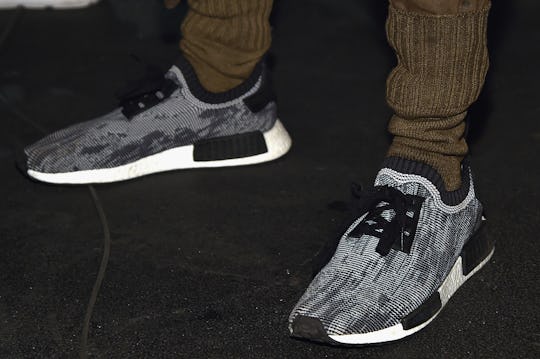 Dimitrios Kambouris/Getty Images Entertainment/Getty Images
What Sizes Do Baby Yeezy's Come In? The Shoes Range In Size For Infants
There is nothing that perplexes people more than the hype surrounding Kanye West. People these days get excited about everything he does — from his music, to his proposed presidency, to his fashion collaboration with Adidas. Even though his adult Yeezy sneakers have a waiting list, West is debuting a sneaker for the younger crowd to get excited over. Thank god babies don't know about the hype surrounding Kanye West because if they did, they'd be wondering what sizes do baby Yeezys come in so they could be the envy of the playground.
Kanye West's much talked about collaboration Adidas has been going on for a while — debuting fashion shows at New York City Fashion Week and selling shoes in adult male sizes. On Monday, however, Adidas announced that the Yeezy Boost 350 sneaker would be available to purchase in infant sizes for the first time on Saturday, Aug. 27.
The infant Yeezys, which look identical to their much larger counterparts, already have quite the baby celebrity following. Kim Kardashian and Kourtney Kardashian snapped pictures of the shoes on their Snapchat accounts on Thursday. Meanwhile, Chrissy Teigen snapped a picture of her daughter's infant Yeezy Boosts on Friday. Therefore mom and dad don't have to be the only people in the house following celebrity fashion trends — their young children can, too.
But what sizes do baby Yeezys come in? According to USA Today, the little sneakers are available in five sizes — ranging from 5k to 10k.
The kicker about baby Yeezys? According to USA Today, the shoes, which are available in two colors, will cost $130 for a pair. A little steep for some, but some parents could argue that is how much they spend on diapers in a month. Think of baby Yeezys like diapers — sure they might become soiled and grown out of in a few months — but are they not a necessity?
According to care.com, size 5 k should approximately fit a baby between the ages 12 to 18 months. Size 10k should approximately fit a 3-year-old toddler. Therefore, parents can watch their very stylish children take their first steps in a pair of baby Yeezy Boosts or alternatively be the trendiest toddler at Mommy and Me class.
And when their children end up growing out of their shoes in two months, parents can save them for their grandkids (because they'll definitely be vintage in 30 years) or resell them. According to Forbes, adult Yeezy 750 boosts sold for $350 when they debuted but now have a resale value between $1,200 and $2,900. If baby Yeezys have that kind of resale value, they could be thought of as an investment for your child's future.
According to Forbes, baby Yeezys will be sold at select Adidas stores around the world or those with the Adidas Confirmed app could have reserved pairs of the shoes before they launch on Saturday.
Baby Yeezys come in plenty of select sizes for children to grow into and grow out of. The hardest part is getting your hands on the exclusive and hyped over shoes.