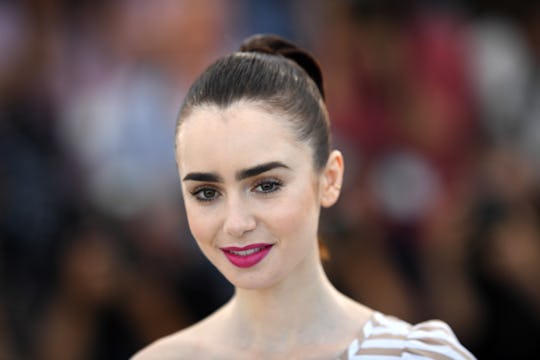 Pascal Le Segretain/Getty Images Entertainment/Getty Images
Lily Collins Complimented On Weight While Playing Anorexic Character
Women everywhere suffer from eating disorders, in part because of expectations they receive from the media about how a body is "supposed" to look. To The Bone is a new film starring Carrie Preston and Lily Collins that addresses the trauma of living with anorexia, specifically. But despite the fact that the cast spent the past year delving into the troubling topic and picking it apart in order to portray the reality of eating disorders correctly, what someone told Lily Collins about her weight during filming is perhaps even more disturbing.
It's hard to grasp just how much our society fetishizes skinny women until you hear about comments like this one — that a dangerously unhealthy weight is viewed as a goal. According to Collins, who spoke with Net-A-Porter's magazine The Edit, the actress was complimented for her weight loss off-set, even as she tried to describe to the person that it was for a dramatic role, addressing a dangerous health problem. Collins recounted,
I was leaving my apartment one day and someone I've known for a long time, my mom's age, said to me, "Oh, wow, look at you!" I tried to explain [I had lost weight for a role] and she goes, "No! I want to know what you're doing, you look great!" I got into the car with my mom and said, "That is why the problem exists."
She's right. It's messages like that, even well-intentioned, that train women (and men) to believe that their bodies aren't perfect just the way they are.
In a pleasantly surprising twist, Collins added that given her weight loss for the role, many magazines weren't ready to put her on the cover right away, which means that something about the way the media portrays and celebrates bodies might be changing. Slowly, for sure. But it says something that outlets viewed her as "too thin" — even if that can feel like body shaming in another direction.
"Not just on the cover," Collins said. "They wouldn't put me inside looking the way I did, even though it was for a movie. I told my publicist that if I could snap my fingers and gain 10 pounds right that second, I would," the actress added.
To The Bone, which comes out on Netflix on July 14, is personal for the 28-year-old actress, who has spoken publicly about her struggles with anorexia. She said that playing the role was not easy.
There's a scene in the film in which actress Carrie Preston, who plays Collins' step-mother, takes a picture of her while weighing Collins' character, Ellen. The scene called for the picture, but Collins didn't think Preston was actually going to take it.
"I saw myself in the photo and my heart dropped," Collins said. It was hard for Collins' real life mother, too, naturally. The actress said that watching her mother view the film was gut-wrenching; Instead of seeing the character, it was hard for her mom not to see Lily as Lily and remember how scary it was to live through that in real life, she said.
To the Bone addresses all of these issues, and, so far, has received strong reviews. Hopefully people will watch it so that, in the future, someone will know better better than to compliment such a dramatic weight loss without first asking after someone's wellbeing.