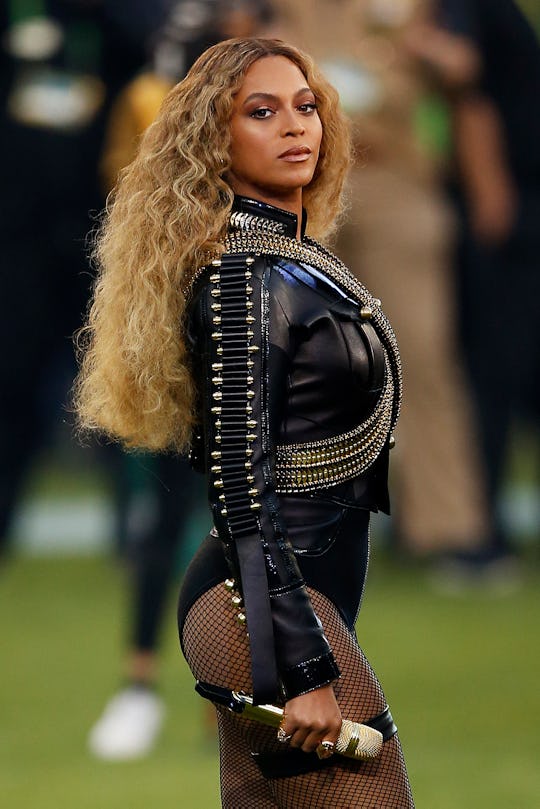 Ezra Shaw/Getty Images Sport/Getty Images
What Songs Will Be On Beyonce's Next Album? Everyone Is Dying To Know
Ever since Beyoncé performed her newest single "Formation" at the Super Bowl in January and announced a summer tour, fans have been waiting for her next album and asking all sorts of pertinent questions. Because if you don't know what songs will be on Beyoncé's new album, then how can you jam out during her tour? The Formation tour kicks off on April 27, so it's safe to assume that Queen Bey will drop her album sometime before then. But when? And do we know any of the other tunes? Beyoncé herself isn't giving away any clues, but members of the BeyHive have been tracking her every digital move for morsels of information, and it may have paid off.
Obviously, "Formation" will be on there. But what about the other songs? Turns out last week, Beyoncé's iTunes page was down briefly, which led fans to believe they could be doing some extra maintenance for when she drops new tunes randomly (like she did last time). Despite the frenzied speculation, iTunes has not offered any official explanation for the tech glitch, yet. According to Jezebel, there are also 13 unlisted videos on her VeVo page. These must be placeholders for new tracks, but again, no word from Beyoncé at all. The sort of hysterical thing about all of this hype is that Beyoncé has to be doing this on purpose.
She knows we're waiting. She's the one who released "Formation" a day before the Super Bowl halftime show and broke the Internet with a tour announcement. Beyoncé knows she has complete control over all of us. And we like it.
But the world still has no idea what songs will be on the album, though "Formation" is obviously on there. We do know that Beyoncé has been hard at work; Sia, who is also a songwriter and has written music for Bey, Rihanna, Adele, and other pop stars in the past hinted that Beyoncé has been "working on something" recently, stirring the pot even more.
Sia told Fuse recently that Beyoncé's writing process is particularly intense. "The process is like a writing camp, essentially," Sia explained. "She flies us all in and puts us all up." If the process is a writing camp, Bey is head counselor, she hinted. "She's very Frankenstein when she comes to songs," the "Pretty Hurts" co-writer said of working with Beyoncé.
We may not have a track list or even a release date, but a full length album has to be in the works. There's just something in the air.
At this point, it looks like the only thing fans can really be sure of is that the album will drop without too much notice (most likely before the big Formation tour) — and if its anything like her previous albums, this new Beyoncé album will undoubtedly be epic.