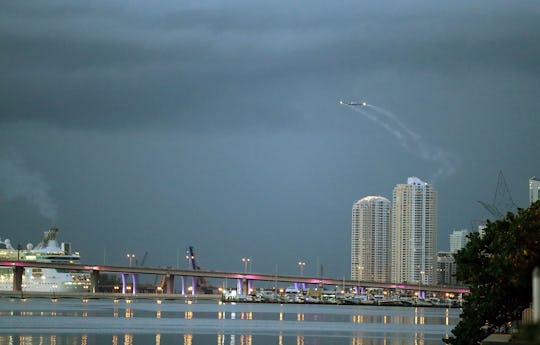 Joe Raedle/Getty Images News/Getty Images
What State Will Zika Spread To Next From Florida? The Gulf States Are On Alert
As of Tuesday, 42 cases of locally transmitted Zika virus have been reported in the state of Florida. While that number seems relatively low when compared to the Sunshine State's entire population of almost 20 million people, the uptick in locally transmitted cases of Zika are giving health officials cause for concern. The virus has made its way from a neighborhood in Miami to a single case in Pinellas County, on the opposite side of the state bordering the Gulf of Mexico. According to public health officials, it's only a matter of time before locally transmitted Zika crosses Florida state lines. What state will Zika spread to next from Florida?
According to Dr. Anthony Fauci, a director at the National Institutes of Health, he believes the Gulf states — particularly Texas and Louisiana — are the next most likely regions to develop locally transmitted cases of the mosquito-borne virus. Speaking to ABC News on Sunday, Fauci identified Louisiana as a particularly troublesome region, given the catastrophic flooding in the Baton Rouge region over the past two weeks, as if Louisiana hasn't been devastated enough. "There's going to be a lot of problems getting rid of standing water," Fauci noted of the region.
While Louisiana is geographically closer to Florida than Texas, Dr. Ira Longini, a biostatistician at the University of Florida, said the chances that Texas will have a Zika outbreak in the next month is at about 25 percent. Speaking to NPR, Longini described how the latest computer models show Zika transmission inevitably spreading across the southeastern United States.
Of course, this all comes down to accurate reporting of Zika cases in the first place. One of the biggest factors that make tracking Zika infections such a tricky endeavor is that 80 percent of people don't show symptoms of Zika when they get it; symptoms include low-grade fever, rash, red eyes, and cold or flu-like body aches that go away in a few days.
Complications from Zika are rare, but it has been linked to a degenerative neurological disease: Guillain-Barré Syndrome. Additionally, Zika poses a distinct threat to pregnant women and their unborn babies, as Zika can cause microcephaly in utero — a devastating birth defect that results in small, malformed heads and brains. Worse still, Zika-induced microcephaly in babies can occur even when a pregnant woman doesn't show symptoms.
Zika is a sneaky virus, as people can become infected by mosquito or through sexual transmission. It can remain in the body for several weeks and the infected host may never show symptoms, potentially infecting others. That's what makes local transmission of Zika beyond Florida to states like Texas and Louisiana so likely — and just as concerning.