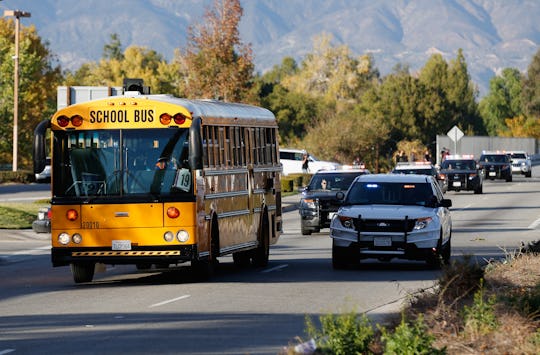 Sean M. Haffey/Getty Images News/Getty Images
What States Allow Schools To Use Corporal Punishment? Far Too Many
It seems impossible in 2016 that any school would not only be allowed to use corporal punishment against children, but that any school administrator would choose to hurt a child as a form of discipline. It's not impossible, or even especially unusual. The reality is, 19 states allow schools to use corporal punishment in 2016, and that is 19 states too many.
According to the Center for Effective Discipline, the 19 states that still allow corporal punishment are largely concentrated in the South, Southwest, and the Midwest. These states allow teachers and school administrators a pretty loose definition of how they are able to dole out discipline. Another 31 states nationally have banned the practice of spanking students in schools, despite the 1977 Supreme Court ruling of Ingraham v. Wright, that found spanking in schools does not violate a child's rights. Some urban school districts like Houston, Memphis, and Atlanta still allow the practice of paddling as a form of discipline. Even in states that don't allow paddling, like Maryland, teachers have been found to spank or paddle children as a form of punishment. According to The Washington Post, Education Secretary John B. King Jr. recently sent a letter to governors and state school leaders calling for a a country-wide end of corporal punishment, calling the practice:
...harmful, ineffective, and often disproportionately applied to students of color and students with disabilities.
Despite the fact that 19 states continue to allow corporal punishment, a study released by the Brookings Institution found that only seven states accounted for more than 80 percent of all in-school corporal punishments: Mississippi, Texas, Alabama, Arkansas, Georgia, Tennessee, and Oklahoma.
A separate study conducted by the Education Department's Civil Rights Data Collection found that, of the 110,000 students who received corporal punishment within the 2013 to 2014 school year, more than one-third of them were black. Only 16 percent of the student population was black. Students who suffer from disabilities also received corporal punishment at a much higher rate.
In a conference call with reporters, King noted the disparity between children's rights and the rights of adults.
Notably, the very acts of corporal punishment that are permissible when applied to children in schools under some state laws would be prohibited as criminal assault and battery when applied to adults in the community in those very same states.
Fatima Gross of the National Women's Law Center, who sat in on the conference call, agreed.
What we know is that these sorts of severe discipline policies don't work. They leave students feeling unwelcome and unsafe at school. Corporal punishment of adults has been banned in prisons and in military training facilities and it's time we do the same for our nation's schoolchildren.
Let's be honest, the time to end corporal punishment was in the last century. For vulnerable, frightened children to still fear being hurt at school if they dare to misbehave is unconscionable.