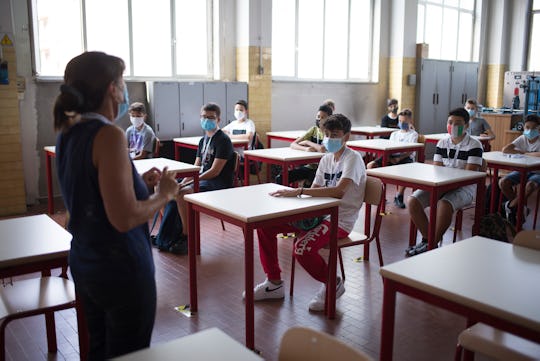 Stefano Guidi/Getty Images News/Getty Images
Here's What Substitute Teachers Really Want You To Know, Especially This Year
Remember when you were a kid and a substitute teacher walked into your classroom? It felt like a party because, more often than not, it was a free period to play, talk with your friends — and let's be honest, not have to take that test you were dreading. But subs are an integral part of the educational process, and deserve so much respect, especially during the current pandemic. Here's what substitute teachers want you to know about their feelings on school this year, because there are some big emotions involved.
There are over 600,000 substitute teachers employed in the U.S., according to the Bureau of Labor Statistics; the vast majority (527,780) are working in elementary and secondary education schools. But unlike full-time teachers, subs are often called into work in the early hours of the morning and not given sufficient time to prepare a lesson. When you consider how much COVID-19 has changed the way the classroom works, it becomes clear that subs are stuck on the frontlines of education on a daily basis.
"For districts that are doing in-person instruction at least some days of the week, substitutes will be in high demand," Education Week reported. "There's already a substitute shortage in many places. And with precautions in place that ask teachers to quarantine after COVID-19 exposure and stay home with any mild symptoms, administrators are expecting to need a long roster of substitutes."
This year and every year, substitute teachers care about your child's education and want to be a positive part of the process. Below, real life subs explain, in their own words, just what teaching means to them. While COVID-19 might be changing the classroom, one thing remains the same: their love for teaching and learning.