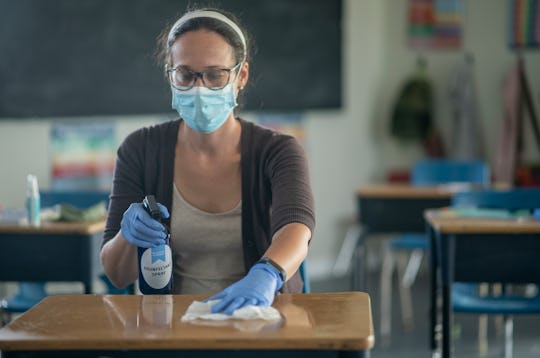 FatCamera/E+/Getty Images
10 Things Teachers *Need* From Parents This Year, Whether You're Virtual Or In-Person
On any given year, back-to-school shopping lists are filled with supply requests from teachers. But this year, things are undoubtedly different. In the middle of a global health pandemic, what teachers need from parents this year — more than ever before — is support. Sure, you may still opt to send hand sanitizer by the bucketful, an industrial-sized box of tissues, and 208 individual glue sticks so that no kid has to share, but teachers this year are in need of more than just classroom supplies.
Regardless of whether your child will attend school in-person or virtually, their teachers will need your help to ensure that the entire process works for everyone. After a long few months of distance-learning in the spring, I'm sure I speak for more than just myself when I say that I now have a whole new level of appreciation for just how hard teachers truly work each and every day to make sure our kids are safe, loved, and learning as much as possible. Supporting teachers however they need it is priority number one this school year.
While each classroom, each school, and each teacher will have different needs, these ideas from teachers about what they need from parents this school year will help make the transition easier for everyone.