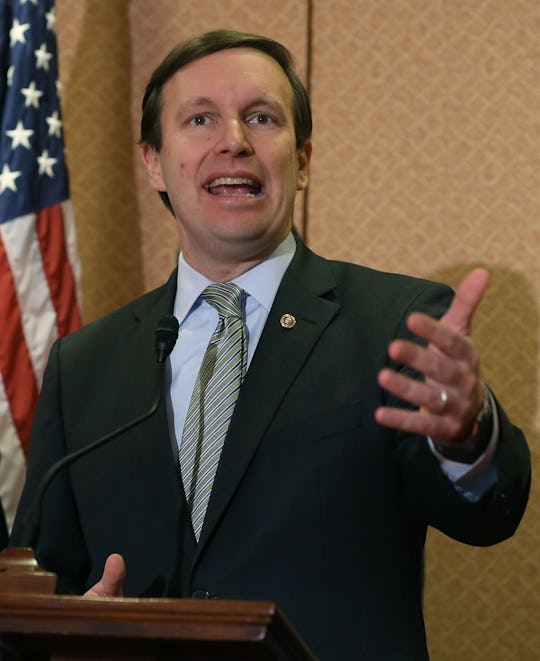 Mark Wilson/Getty Images News/Getty Images
What The Democratic Filibuster Is About & Why It's Important
After a lone shooter murdered 26 people, including 20 first-graders at Sandy Hook Elementary School in his home state in 2012, Sen. Chris Murphy became a more vocal advocate of passing gun safety measures. There have been many, many mass shootings in the United States since then, including the deadliest of them all over the weekend, when a gunman entered a gay nightclub in Orlando and fatally shot 49 people and injured 53 more before dying in a gunfight with law enforcement. Amid the political fervor that has followed as politicians hash out the role terrorism and easy access to firearms played in the massacre, Murphy, a Democrat, launched a filibuster on the floor of the Senate Wednesday to protest Congress' inability to compromise. The Democratic filibuster is about urging Republicans to support enacting gun safety measures, and it's so, so important.
Just days after the American-born gunman pledged allegiance to the terrorist organization ISIS and sprayed club-goers at Pulse with bullets from an AR-15 rifle and semiautomatic handgun, Murphy and fellow Democrats are trying to force their colleagues' attention to proposed legislation that would ban suspected terrorists from purchasing firearms and subject those attempting to purchase firearms to universal background checks.
"I'm going to remain on this floor until we get some signal — some sign — that we can come together on these two measures, that we can get a path forward on addressing this epidemic in a meaningful, bipartisan way," Murphy said from the floor, as he blocked work on a spending bill to advance the cause.
The Orlando killer, 29-year-old Omar Mateen, had been investigated twice by the FBI as a possible terrorist threat and was on a watch list in 2013, but his name had been removed by the time he committed the mass murder at Pulse. Still, for Democrats who want to limit public access to deadly weapons, passing measures to make firearms less ubiquitous is a step in the right direction. Republicans who oppose the proposed legislation (along with the NRA) believe that this infringes on Americans' due process rights.
"If an investigation uncovers evidence of terrorist activity or involvement, the government should be allowed to immediately go to court, block the sale, and arrest the terrorist," Chris Cox, the executive director of the National Rifle Association's Institute for Legislative Action, told Politico in a statement. "At the same time, due process protections should be put in place that allow law-abiding Americans who are wrongly put on a watchlist to be removed."
Sen. Dianne Feinstein, a Democrat, first introduced the bill in December, after a married couple influenced by radical Islamic ideology shot and killed 14 people at a office holiday party in San Bernardino. Republican Sen. John Cornyn, however, told the Associated Press that he is seeking a compromise to her bill that would delay the sale of firearms to suspected terrorists for up to three full days and allows prosecutors to petition the court to permanently block the transaction.
Democrats aren't crazy about that idea, but Cornyn's willingness to explore legislation to staunch of flow of lethal weapons into dangerous hands is a bit of an anomaly. Traditionally, conservative politicians tend to talk about mental illness in the wake of a mass shooting, and presumptive Republican presidential nominee Donald Trump renewed his call for a ban on Muslims entering the United States after the attack on the nightclub in Orlando. (The killer was actually born in Queens, New York — just like Trump himself.)
The NRA's announcement Wednesday, which supports delaying those on a terrorist watch list from purchasing guns, may have emboldened Cornyn to broach the idea of a compromise in the first place.
Whatever it takes to get to a place where people intent on ambushing strangers at work, school, church, or movie theaters, can't get the weapons to do so, it's imperative that we get there. That's why the Democratic filibuster is so important. Murphy and his supporters are refusing to let the tragedy in Orlando slide by without meaningful change. While this bills may not have prevented what happened in that club, it could prevent something similar from happening in the future. And forcing lawmakers who are reluctant to admit that addressing the sale of guns themselves is a major facet to preventing gun deaths is a big piece of that.
The last time Congress made meaningful changes to gun laws in the United States, it was after a gunman slaughtered 32 people at Virginia Tech in 2007, and Congress voted to strengthen the instant background check system. At the time, it was the deadliest mass shooting in American history. Now, Orlando has secured that unenviable title.
Will it be enough for Congress to come together to act again? The deaths of the 49, and the ensuing filibuster, could mark a turning point in the way that many hope Sandy Hook would. When people easily purchase military-grade weapons designed to kill huge amounts of people in a short period of time, something is wrong. The bill the Democrats want their colleagues to vote "yea" on may not immediately eliminate mass shootings, but it's a conversation Congress desperately needs to have in order to begin to address the complicated problem.