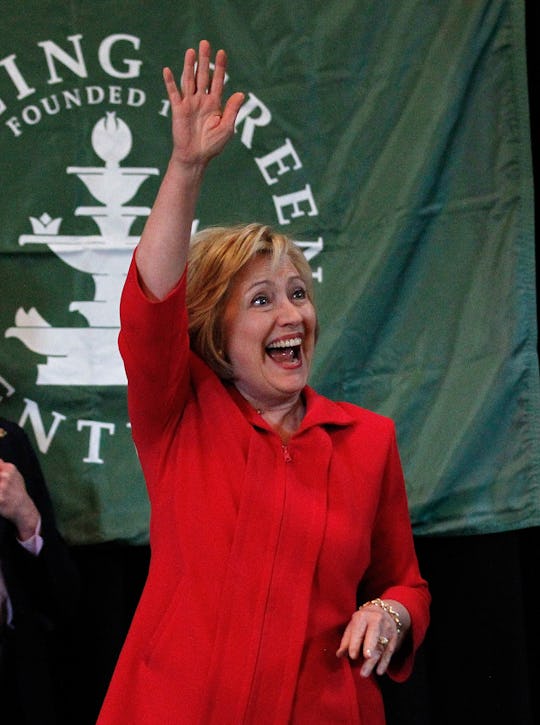 John Sommers II/Getty Images News/Getty Images
What The State Department's Report On Clinton's Emails Could Mean For Her Campaign
A new report that has been released by the State Department could spell trouble for former Secretary of State and presidential hopeful Hillary Clinton. While Clinton was still the Secretary of State, she was using a private email server without first seeking permission, according to the report by the State Department Inspector General. With the Democratic Convention looming large in her future, the real question will be what the State Department's report could mean for Clinton's campaign.
The report, which was released on Wednesday, stated, according to CNN:
At a minimum, Secretary Clinton should have surrendered all emails dealing with Department business before leaving government service and, because she did not do so, she did not comply with the Department's policies that were implemented in accordance with the Federal Records Act.
One of the main issues at hand appears to be that Clinton decided to use a private email server of her own accord, without going through proper legal channels. Which some feel is rather telling, as the report goes on to say she would not have been given permission to use a private email server by the department as there would be "security risks in doing so." Clinton also failed to preserve her emails or follow the release of information protocol when she left the office of Secretary of State in February 2013.
The report outlined that Clinton was expected to print off and surrender all work-related correspondence upon leaving office, but instead waited until December 2014. Clinton also used mobile devices to communicate and carry out official business, which is prohibited, according to ABC News, which cited the report.
"By Secretary Clinton's tenure, the department's guidance was considerably more detailed and more sophisticated," it concluded. "Secretary Clinton's cybersecurity practices accordingly must be evaluated in light of these more comprehensive directives."
While Clinton has yet to make a statement regarding the 83-page report, one of her top aides while in the Secretary of State office, Huma Adebin, has reportedly been interviewed by the FBI, and so has former chief of staff Cheryl D. Mills, according to her lawyer, who spoke to USA Today. Clinton could be interviewed herself by the FBI, but, according to the Justice Department, her interview would be saved for last as she's the central figure in the investigation.
So what could this new email scandal mean for Clinton's chances to become POTUS? A scandal at any stage would be damaging to her campaign, but the timing here could be critical. With the California primary just two weeks away — a state with more potential delegates than any other in the country — the tides could potentially turn on Clinton. She has been considered the Democratic frontrunner against Vermont Sen. Bernie Sanders until this point, with such a sizable lead in delegates that Clinton has been looking forward to her presumptive fight against GOP presidential candidate Donald Trump.
Could this email scandal make a difference at this point? Sanders has pledged not to use the scandal against Clinton, regardless of the outcome. According to his campaign manager Jeff Weaver, the senator has no plans to make a statement regarding the report. "Well, I think the report speaks for itself," Weaver said, according to Politico. "This is obviously an area where the senator has chosen not to go."
It should be noted that Clinton was not the only official to be criticized in the report. Clinton was cited along with four other past Secretaries of State for their questionable record keeping, including former Secretary of State Colin Powell.
It was particularly critical of Powell — who has acknowledged publicly that he used his personal laptop to write emails — concluding that he too failed to follow department policy designed to comply with public-record laws.
While the world waits for Clinton's camp to respond to the report (and consider some fairly serious damage control tactics), it will be interesting to see how voters react to the latest news. And while Sanders has taken the high road — and possibly earned himself some savvy kudos on the side — I wonder if we will see the same sort of restraint from Trump's camp? Time will tell.