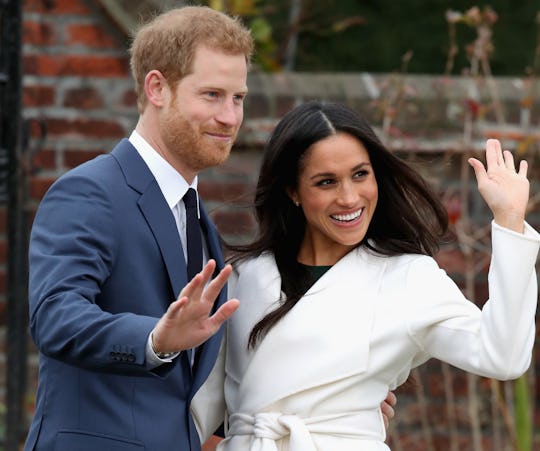 Chris Jackson/Getty Images Entertainment/Getty Images
You May Want To Set Your Alarm Clocks For The Royal Wedding Now
A normal Saturday morning looks like this in my world; sleep in until about 8 or 9 am, grab a coffee, go for a hike, eat a bunch of eggs, drink more coffee. This coming Saturday will look quite different, however. Because Meghan Markle is marrying Prince Harry, and there's simply no way in the world I'll be missing a moment of the big event. And if you're reading this, I feel lit's safe to assume you won't be missing it either. Which means you're going to need to know a few things; what time do royal wedding streams start in the U.S., when should you set your alarm, and is it at all weird to wear a fascinator with your pajamas in the comfort of your own home?
You'll have to make up your own mind regarding the fascinator, but I can definitely help out with the rest. The American actress/philanthropist will arrive at St. George's Chapel in Windsor Castle outside London just before noon, United Kingdom time. So yes, that's going to be stupidly early on Saturday morning for those of us living in Eastern Standard Time; 7 am, to be exact. But the streaming is going to begin even earlier than that, so set the timer on your coffee maker the night before, guys, and settle in for a glorious early morning of royal wedding high drama.
There are a number of ways to watch the royal wedding of Meghan Markle and Prince Harry on Saturday, but perhaps the most popular choice will be streaming. Cable television seems to be increasingly a thing of the past, and there are going to be plenty of ways to get a chance to stream the big event as a result. If you want to catch the royal wedding with a side of British accent to really get in the mood, you can catch the BBC One version on BBC America live stream starting at (brace yourselves) 4 am EST. Keep in mind this will be the way the actual British people probably catch the broadcast, and if you're the kind of person who is planning to go full British invasion with fascinators and scones and tea, this will probably be the one for you.
If you're more into the celebrity gossip than the British accents, you might want to check out CBS' live stream of the royal wedding, which also gets going at 4 am EST. Tina Brown, one of the correspondents covering the wedding, actually wrote a book about Princess Diana, Prince Harry's mother, called The Diana Chronicles, which could mean a little added insight into the who's-who of the royals.
For those of you who might want to have a bit more of a lie-in, Good Morning America and ABC News are planning to start their live stream coverage at 5 am EST. Today.com is splitting the difference by starting its live stream coverage around 4:30, which is slightly more civilized than 4 am, I suppose.
There are plenty of ways to watch the royal wedding on Saturday, whether you want to watch it by yourself on a live stream in the comfort of your own bed, head to one of the viewing parties being held across the country, or even watch it at a movie theater if you're lucky enough to live near one playing the wedding, it's totally up to you. I mean, technically you could just wait and watch a play-by-play later in the day on social media if that's your thing.
But let's get real; where's the fun in that? No, you're probably better off to get up at the crack of predawn and watch it live, right? Isn't that what we're all doing?