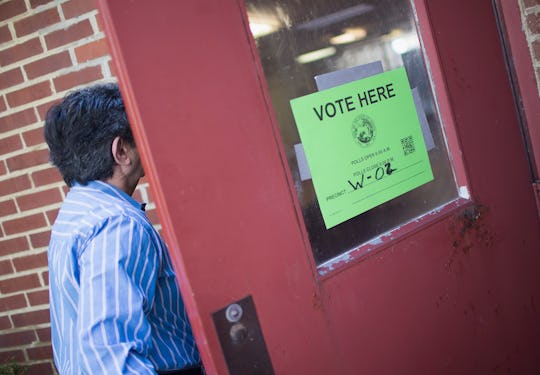 Scott Olson/Getty Images News/Getty Images
What Time Do The Indiana Polls Close? We'll Hear Results Before Bedtime
Good news for everyone who stayed up late waiting for the results of the New York primaries last month: Tuesday night won't be a late one. Those wondering what time the Indiana polls close will be relieved to hear that it'll all be over at 6 p.m. Eastern Time (part of the state is in Central Time). Of course, many voters in Indiana are no doubt irked by the smaller window they have for voting (New York's polls were open until 9 p.m., by comparison), but at least the rest of us won't have to wait as long to hear who the projected winners are.
Tuesday's race isn't enough to clinch the nomination for either party, but it's predicted to be a giant leap forward for both the the Democratic front runner, former Secretary of State Hillary Clinton, and her Republican counterpart, National Enquirer quoter Donald Trump. Clinton currently holds 2,165 of the needed 2,383 delegates, and Trump holds 996 of the 1,237 he needs for his nomination. It's becoming increasingly unlikely that Vermont Sen. Bernie Sanders can catch up to Clinton, and it's literally impossible for anyone to catch up to Trump, no matter what insane conspiracy theories he spouts to the media. This could conceivably be the race where Sanders, Texas Sen. Ted Cruz, or Ohio Gov. John Kasich finally throw in the towel, but all three seem less likely to give up than Rick Astley, so don't hold your breath.
Important to note: some counties in Indiana are on Eastern Time, while others are on Central Time, so we'll be waiting until 7 p.m. Eastern Time for the final votes. Indiana practices a partially-closed primary, which means that voters needn't be enrolled in either party to vote in the primary; they can simply request a Democratic or Republican ballot at their polling station to automatically enroll and then vote.
In Republican polls leading up to the Indiana primaries (taken between April 26 and 29), all saw Trump in the lead by a margin of somewhere between 2 and 17 percentage points over Cruz. Democratic polls taken between April 18 and 28 show Clinton leading Sanders by margins ranging from 4 to 13 points. Of course, polls aren't always correct (as evidenced by the fact that they don't even agree with each other) so there's still good reason to get out there and vote. Even if it seems impossible for a candidate to win, a vote is still a vote, and it's important to make your voice heard. Just make sure it's heard before dinner time.