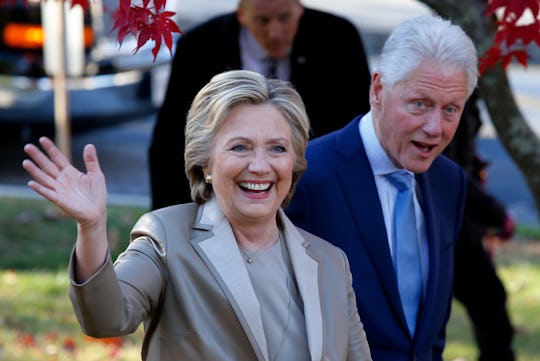 EDUARDO MUNOZ ALVAREZ/AFP/Getty Images
What Time Does Hillary Clinton Speak On Election Night? It's A Historic Evening
The night is finally here, and the entire world is watching. As the election night results begin to filter in from the polls across the country, Democratic presidential nominee Hillary Clinton (also known as arguably the hardest working woman in America) will finally find out whether or not all of that hard work pays off. If Clinton wins, she will be the first female president of the United States. When Clinton takes the stage to speak on election night after the results are tallied, regardless of who has won the election, her words are sure to carry a whole host of emotions. Her speech will be the one to watch.
As Clinton winds down her 19-month-long presidential campaign, she is hosting an election night party at the Javits Convention Center in New York City. Clinton will be watching the results roll in just over one mile away from her opponent's election night party: GOP presidential nominee Donald Trump's is hosting his own fête at the Midtown Hilton Hotel in Manhattan. Clinton's choice of a venue is especially symbolic as the first woman presidential nominee in American history: the Javits Convention Center is built from top to bottom with glass. What better place for Clinton to deliver a speech and potentially (finally) shatter the proverbial glass ceiling, right?
Clinton will be delivering her acceptance (or concession) speech from under the stunning glass ceiling of the Javits Convention Center once the election has been called; Right now her speech is scheduled for around 11:30 p.m. but that could naturally change depending on how the results come in. Everyone can watch Clinton's speech, not to mention her party, at hillaryclinton.com/live.
So what can we expect from a Clinton speech? The Democratic nominee has been hitting the trail hard for the final 48 hours of campaign, and despite some recent hiccups in a particularly contentious presidential race, Clinton managed to keep her speeches positive. At a rally in front of Independence Hall Philadelphia, the largest gathering of her campaign, Clinton had a message of hope for her supporters diametrically opposed to the message of her opponent:
Tomorrow we face the test of our time. What will we vote for — not just against? Every issue you care about is at stake.
Conversely, Trump spoke in Raleigh, North Carolina on Monday with a message of negativity where he again mentioned the possibility of a rigged election:
It's a rigged, rigged system. And now it's up to the American people to deliver the justice that we deserve at the ballot box tomorrow.
When Americans decide who they choose for their next president, Clinton will be in New York making a speech. And whatever way it goes, here's hoping she will keep her message as positive and full of hope for the future as she has in the past.