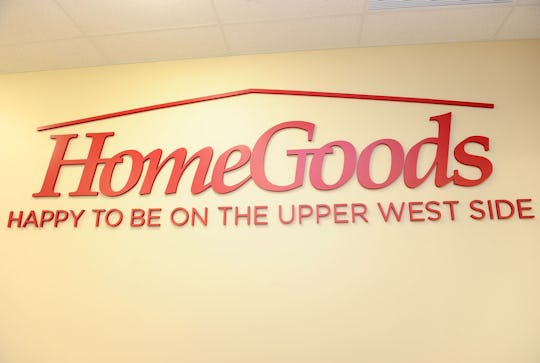 Jason Kempin/Getty Images Entertainment/Getty Images
HomeGoods Opens Pretty Early On Black Friday, But There's Really No Need To Rush
If you shop anywhere besides discount or superstores on Black Friday, I have many questions for you. Sure, Black Friday sales are notorious for making prices ridiculously affordable everywhere, but the level of savings you can get at discount stores is just next level. Why would you get two things one place when you could grab ten from another without exceeding your budget? If you're like me, your post-Thanksgiving game plan probably requires you to know what time HomeGoods opens on Black Friday.
HomeGoods is a great place to shop for furniture, decorative items, and other home essentials, because no matter when you shop, you're always getting a deal. And while many retailers will be opening on Thanksgiving this year to get an early start on their Black Friday offerings, HomeGoods won't be, nor will its sister brands TJMaxx and Marshalls, according to Retail Me Not. In fact, their Friday opening time isn't even that early compared to other stores: They'll be open at 7 a.m. Here's one thing you'l want to know before you visit a HomeGoods the day after Thanksgiving: They don't participate in Black Friday deals.
That's right. HomeGoods doesn't do any additional savings for Black Friday, as their prices are already so low, according to House Beautiful. The same goes for Marshalls and TJMaxx, though the latter does offer discounts for online orders, the same article reported. If you're a HomeGoods fan, you probably already know that HomeGoods doesn't even provide the option for online shopping on their website, which is almost unheard of in 2018, because they believe there is a magic to finding the perfect item in store, their site says. Because of their unique philosophy, each HomeGoods is different, and you won't go into the same store and see the same items twice. In a world of mass production and a reliance on online shopping, the success and popularity of HomeGoods is actually kind of surprising.
I'm a semi-habitual HomeGoods shopper, and I'll admit there is somewhat of a special feeling that follows you as you wander through the aisles of home furnishings and accent pillows. Sometimes going in is a total bust — they didn't have the right color towel or kind of barstool — but I've also left a HomeGoods trip with armfuls of bags filled with everything I needed to redecorate a room. The experience is kind of like thrift store shopping or antiquing in that you have to be willing to dig through piles of stuff that isn't right for you before you find anything that is and you need to revisit often, but the sifting can really be worth it. You've just gotta decide if that's how you want to spend your Black Friday.
Black Friday is one of the few days of the year people actually leave their houses to shop, thanks to doorbuster deals that entice people into physically going to a store, and chances are, a HomeGoods will be in the same strip mall you're visiting anyway, so maybe they will end up being part of your Black Friday shopping extravaganza after all. Plus, they have really cute seasonal finds, like Christmas napkins and holiday-themed mugs, so you might get inspired. Then again, the prices are low there everyday, so maybe save your HomeGoods shopping for the next week and get any other deals you've been eying first.