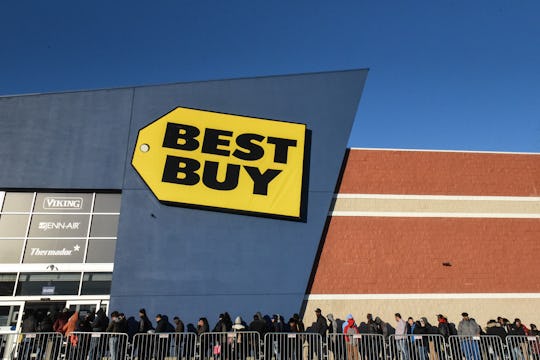 Stephanie Keith/Getty Images News/Getty Images
11 Stores Open On Thanksgiving For Black Friday Sales, Bc You Legit Can't Wait
When it comes to holiday shopping, strategizing is key. You can't just walk into a retailer on Black Friday with no game plan. Do you think wandering into an Apple store at 1 p.m. on the November 23 without having researched any of the products is a good idea? No, you're no fool. You know that you need to find out which stores are open on Thanksgiving day this year so you can hit them up before Black Friday totally wipes everywhere clean of the quality stuff.
The savviest of shoppers know that although staying home on Thanksgiving is fun, getting your Black Friday shopping started Thursday night has its perks. You get to the sales before everyone else, you can avoid those late night familial political arguments that are bound to happen, and certain stores might even have less crazy lines than they will on Friday because a lot of people do stay home. But if you are planning to brave the masses on Thursday for some retail therapy, you need to know where to go so you don't end up staring angrily at a closed sign with no bounty to prove your efforts.
So for all my brave Thursday shoppers, read on for a list of 11 stores that will be open on Thanksgiving day, and get that gas tank filled and ready.