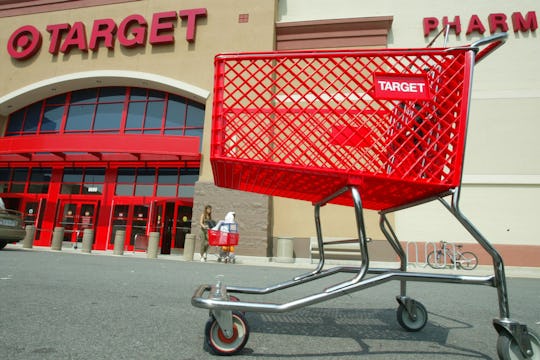 Alex Wong/Getty Images News/Getty Images
Target Is Opening Sooner Than Expected On Black Friday
As an experienced holiday shopper, I'm guessing that Target is a stylish go-to on your list for Black Friday. Especially considering the new Joanna Gaines line, your holiday wish lists, and pretty much any other big-ticket item you'll need to save on this season, there's one question that's detrimental to your shopping without the right answer: What time does Target open on Black Friday? Because if you don't have the time right, you run the risk of getting stuck in a line halfway into the parking lot or missing out on doorbusters and deals that'll fly off the shelves. So if you want to be front and center when the doors open the day after Thanksgiving, you've come to the right place to find out when to show up.
The fun thing is that you actually don't have to wait until Friday this year, because Target will open for sales at 6:00 p.m. Thursday, Nov. 23, according to the store's Black Friday homepage. They'll even keep their doors open until midnight for shoppers getting a head start. But for those who want to wait until Black Friday, you can show up at 6:00 a.m., Nov. 24 to shop whatever deals are available. Although, these times are listed as the official times on Target's website, it's still always a good idea to check with your local store just before you head over, in case the times vary.
The best part of heading into Target's pre-Black Friday and Black Friday sales is that you can find what the deals are before the sales go live, so you know exactly which ones are worth prioritizing and can strategize your shopping excursion accordingly. Check all the best Black Friday deals at Target here. Pay special attention to electronics, kids' gifts, and anything else that you would like to treat yo' self with. There's going to be a little something for just about everyone on your list, especially you.
For example, you can find new television doorbusters like the 4K Ultra HD 120Hz Roku High Dynamic Range Smart TV for $30 off (Reg. $380) or an Element 40" 1080p Smart LED TV at $70 off (Reg. $250). Or if you're looking for the kiddos, check out My Size Elena, Elsa, Anna, Rapunzel or Belle doll at $16 off (Reg. $65) or the Sky Viper Stunt Drone at $20 off (Reg. $50). Lastly, you can seek out some stylish options too, whether it's for you, like $15 C9 Champion men's & women's Tech fleece tops (Reg. $28 & $35), or your home with $10 Threshold chenille or Sherpa throws. Regardless of what you're looking for, chances are you'll find a product and price that you're happy with at Target's Black Friday Sale.
If you're excited about discount shopping, but not particularly amped to leave the comfort of your warm, cozy home, turns out you don't have to. Target shared that exclusive online-only deals will be available on Target.com and the Target mobile app. If that isn't enough incentive to avoid the crowds, there's also free shipping on most orders and free same-day pick-up in store too. So you don't have to brave the intimidating and aggressive crowds in store? I'm in.
Whether you're hoping to finish out the Christmas list items, get some new decor for your home, update your electronics, or just grab some necessities for you or your little one, Target's Thanksgiving Day and Black Friday sales are the place to be this season. Don't forget to head into the store at 6:00 p.m. on Thanksgiving or 6:00 a.m. on Black Friday to be there when doors open and the sales commence.