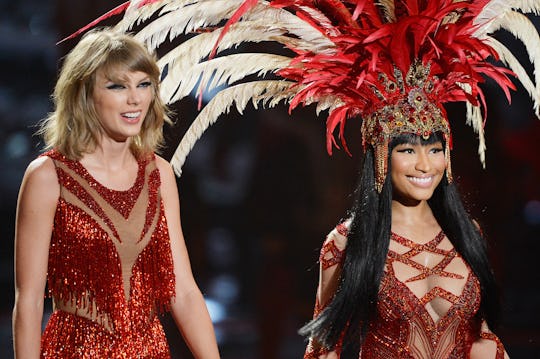 Kevork Djansezian/Getty Images Entertainment/Getty Images
Don't Miss A Minute Of The 2017 Video Music Awards
MTV's Video Music Awards are this weekend, and it's going to be a must-see event. There are so many reasons to tune in — to see if Taylor Swift actually performs, if Bey and JAY-Z show up with the twins, or how many outfit changes Katy Perry goes through while she's hosting. So what time is the 2017 VMAs this year so you don't miss a thing? That depends on how hardcore you are about catching the entire show.
The actual ceremony doesn't begin until 8 p.m. ET, but the red carpet pre-show, hosted by Lil Yachty, starts at 7 p.m. ET. So make sure you have all your snacks and friends ready to go when the cameras start rolling. This year, you can watch on MTV or stream it from MTV Live, although you're going to need a cable subscription to authenticate your account and see it all. Entertainment Tonight will also be streaming the red carpet on their Facebook page and Twitter will definitely be lit up (between the awards and Game of Thrones, obviously) for you to follow along.
As previously mentioned, Katy Perry will be hosting the whole shindig and is also expected to perform her song "Chained to the Rhythm."
In addition to Perry, you're definitely going to want to check in and see if Kendrick Lamar will win all of his eight nominations this year. Last year's Michael Jackson Video Vanguard honoree was Rihanna, and she performed throughout the night. This year, Pink's getting the award, so expect some over the top performances by the singer. In addition to Pink, Miley Cyrus, Thirty Seconds To Marks, Demi Lovato, Lorder, Shawn Mendes, and Edward Sheeran, among others will take the stage at The Forum in Los Angeles.
Expect a lot of socially conscious performances and speeches this year. The network has already set the super progressive tone for the night by adding a Best Fight Against The System category, for the video that best challenges the establishment. It also got rid of gendered categories, so there's no more "Best Female" or "Best Male." Now, it's just going to be Artist of the Year. Can we get a round of applause?
In addition to changing the categories, the higher ups involved in the ceremy have also decided to rename the iconic Moon Man (the trophy that artists receive to take home) to Moon Person. MTV president Chris McCarthy told The New York Times in July, "Why should it be a man? It could be a man, it could be a woman, it could be transgender, it could be nonconformist." In addition to that, MTV has also invited transgender members of the military to attend the show, provided that the Department of Defense allows it.
Sometimes the VMAs can be hit or miss, but with all of these changes, 2017 might be one of those shows that goes down in MTV history.