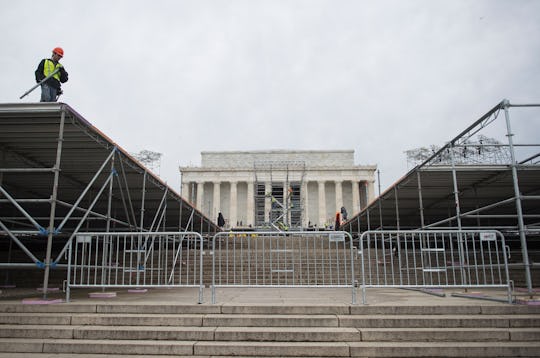 ANDREW CABALLERO-REYNOLDS/AFP/Getty Images
Tune In At This Time For Trump's Inaugural Speech
Jan. 20 is just around the corner, guys. And we know what that date brings, don't we? That's right: President Donald Trump. The man who previously enjoyed a walk-on part in Home Alone 2: Lost In New York. He's going to be the 45th president of the United States. As Inauguration Day looms ahead of us, large and real and unsettling, many of us are wondering what time Trump will be delivering his inauguration speech. Especially considering the oratorical fireworks the president-elect has been treating us too lately; You've got to know it's going to be worth watching.
Trump is scheduled to be officially sworn-in at 12 p.m. EST, with the official inauguration ceremony kicking off at 9 a.m. EST. His speech will begin after the swearing-in ceremony, with his family and the family of Vice President-elect Mike Pence (who will also be sworn in on Jan. 20) in attendance.
Trump will be sworn in by Supreme Court Chief Justice John Roberts Jr. at the West Front of the U.S. Capitol Building. Members of Congress will be on hand, as well as members of the United States Supreme Court, invited guests, and members of the diplomatic community. Former presidents will also be in attendance, including former Presidents Jimmy Carter, George W. Bush (with his wife, Laura Bush), and Bill Clinton. Former Democratic presidential nominee Hillary Clinton will also be in attendance, marking one of her first major public appearances since losing the 2016 presidential election to Trump. (She's made a small number of outings since Election Day, to speak at smaller events.)
Trump is reportedly set to give a "short" speech after he is sworn-in as president, and might be using speech writers to help him craft his words so they're slightly more coherent than usual (as might befit the solemn, weighty occasion of becoming a president, say). Presidential historian Douglas Brinkley, who recently met with Trump to discuss the inauguration, told CNN:
He doesn't want it to be long. He would like it to be a shorter one. He doesn't want people standing out in the cold.
This speech is also expected to be more positive than his past speeches, most notably his acceptance speech at the Republican National Convention this summer. That speech was heavy on the fire and brimstone and light on optimism.
Trump's first official speech as the president of the United States will reportedly focus on education, border security, the military, and the economy. Boris Epshteyn, a spokesman from the Trump team told CNN that former Trump speech writer Stephen Miller (the same policy aide who helped create the president-elect's RNC speech) will actually be lending a hand with the inauguration address as well. He told CNN:
They will be talking about uniting America, bringing American together. We are now in the post-politics, post-campaign season and that's the messaging around this inaugural. I'm expecting a great address ... that talks to Americans about dreaming big, about making sure that we are a city on a hill one more time.
Whatever specific time Trump might share in his address, let's hope it's entertaining at the very least; After all, it's not like there are a whole host of entertainers bursting at the seams to be part of his inauguration, right?