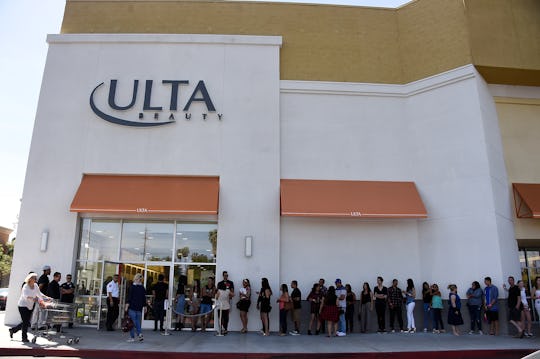 Frazer Harrison/Getty Images Entertainment/Getty Images
You Guys, The Ulta Cyber Monday Sale Includes *Free Shipping* On Orders $35 & Up
Is there anything better than online shopping? In some cases, I find that I save more money because I'm not as overwhelmed as I am in a store, especially when it comes to makeup. Huge stores, like Ulta, have so much product that I easily become too invested in everything, which is why knowing what to buy at the Ulta Cyber Monday 2017 sale can not only save me some cash, but help me fill up my own makeup case.
It's a common misconception that the Cyber Monday sales aren't as great as the Black Friday sales, but Ulta has really done it up right. And the best news? The Ulta Cyber Monday sale includes free shipping on all orders over $35 and a free 22-piece beauty bag with any $75 online purchase. You can also enjoy $10 off any qualifying online purchase of $50 or more and the sale starts earlier than anticipated — Sunday, Nov. 27 at 8 p.m. EST.
If you're not a huge makeup fan, that's OK — there are plenty of deals that don't include eyeshadow, mascara, or contouring kits. You can get some amazing hair tools, like $20 off any Beachwaver tool and 40 percent off the entire line of The Body Shop products. So get ready to fill up your virtual shopping cart — here's what you need to buy at the Ulta Cyber Monday 2017 sale.