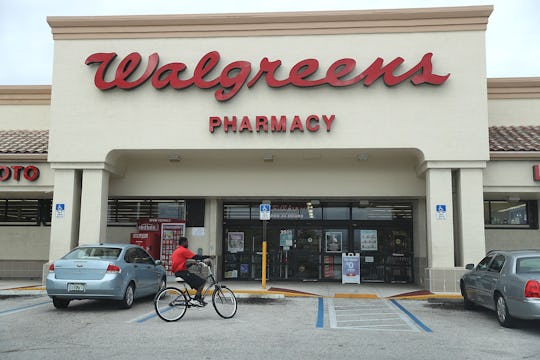 Joe Raedle/Getty Images News/Getty Images
What To Buy At The Walgreens Cyber Monday 2017 Sale, Because There Are Actually Some Good Deals
Back in the day, our local Walgreens was a hot spot for teenagers — myself included — to snag our favorite Bonnie Bell lip balms and Binaca Breath Sprays because, Lord, we need to smell all of the smells for our crushes. But today, Walgreens is more than just the corner drugstore, branching out to incorporate a range of items from toys to home goods. Which means you need to know what to buy at the Walgreens Cyber Monday 2017 sale.
Walgreens may not sound like a place with an amazing Cyber Monday sale, but it really is. According to the store's website, you can enjoy a 3-day pass starting Nov. 25 that gives you 25 percent off regular priced eligible items online. This includes 25 percent off Stamina fitness equipment, beauty products from brands like e.l.f., CYO, and NYX, and Oral-B Pro Power toothbrushes.
For maximum savings on Walgreens' site on Cyber Monday, be sure to sign up for the free Walgreens Balance Rewards Program. As a member of the program, you can get the best prices on items, earn rewards, and receive exclusive discounts.
One more thing: Keep in mind that many of the items listed below are exclusive to Walgreens' website and, therefore, will not be found in stores.
OK, ready to get started? Grab your checklist and let's go.