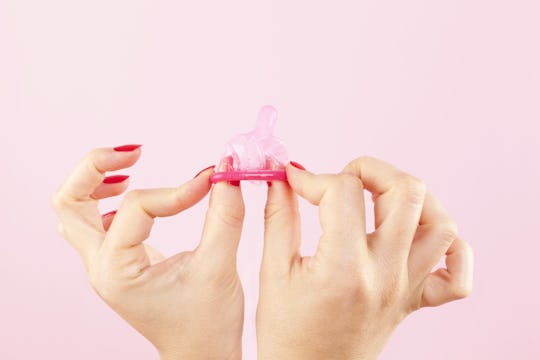 Eskymaks/Fotolia
What To Do If The Condom Is Stuck Inside? 9 Things To Keep In Mind
Having sex is loads of fun, but can also cause some major stresses. And one of those stresses is when the condom gets stuck inside. Yeah, not a lot of fun. It doesn't happen all that often, but if it does, you should know what to do if the condom is stuck inside.
First off, breathe. You're going to be OK. Second, you should know is that this isn't anybody's fault, but just one of the side effects of being sexuality active (and responsible—you're using protection against STDs and pregnancy, so props.)
That being said, there are some things you can do to prevent this from happening. According to Pregnancy, you have to use condoms a certain way in order for them to be effective and not slip off during intercourse. Mainly, you have to make sure your guy pulls out while still erect, because a condom is more likely to slip off a flaccid penis. You can spoon as long as you want once you take care of business.
Another thing to keep in mind is using the correct size condom. In other words, a Magnum is not going to work on a guy who can't fill it. In fact, it will likely slip off. This might be an awkward conversation, but, the alternative is having a piece of rubber stuck at the base of your cervix, so have the conversation. Just carry a variety of condoms with you. Oh, and just in case your sex-ed class didn't inform you on how to use a condom, the same article in Pregnancy noted you should roll the rubber down all the way to the base of his penis. When taking the condom off, hold it against the base of the penis. Voila!
But, say for some reason the condom still gets stuck, here are nine things to do.