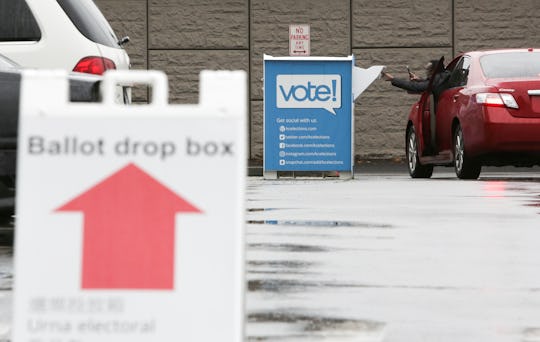 JASON REDMOND/AFP/Getty Images
What To Do If You Haven't Got Your Absentee Ballot, Because Time Is Running Out
Whoever you might be voting for, get out to vote. Whether you are voting Democratic, Republican, Libertarian, Green Party, or Independent, as long as you're voting you're having your say. I know this, you know this; but what do you do if you haven't got your absentee ballot on hand and you won't be able to vote on Nov. 8 for the general election? Because time is running out, after all.
Every state has different rules about absentee (or mail-in) voting; for instance, 21 states require an excuse for absentee voting while 27 other states offer no excuse absentee ballots. Some of the excuses listed for absentee ballots are:
You will be unavoidably absent from the county on Election Day
You are either ill or have a physical disability that prevents you from making it to the polling station
You are temporarily living outside the country
You are an appointed election officer or poll watcher assigned somewhere other than your regular polling station
You work a required shift of 10 hours or more that coincides with polling hours
Your religious tenet forbids non-secular activity on Election Day
You are a student living away from home
You are over 65-years-old
You are incarcerated but have not yet been convicted of a crime
To find out whether your state needs you to provide an excuse to receive an absentee ballot, check out the vote.org website for more information.
If you haven't received an absentee ballot in the mail yet but still want to vote (because of course), time is definitely running out. Some states are offering a deadline of Saturday at noon to request an absentee ballot mail-in, but with the Presidential General Election just four days away, it is cutting it pretty fine. All mail-in votes have to be received by Tuesday, Nov. 8 to be considered eligible. To register online for your absentee ballot, click here. Early voting is already under way across the country as well as in-person absentee voting. Again, the deadlines for early voting and in-person absentee voting are different for each state, so it's important to check your state office's website for the most up to date information.
If you are mailing your absentee ballot, there are a few things to keep in mind. First, make sure you have sufficient postage. According to the U.S. Postal Service website, this has been an issue in the past:
The number of ballots mailed back to election officials with insufficient postage is on the rise.Each election cycle presents a different set of parameters for ballot creation and for the size and weight of the return mailpiece. As a result, many voters do not know the correct amount of postage required to return their ballot by mail.
With only two business days before the election, it's quite possible that a mail-in absentee ballot might not arrive on time. Submitting an online form is probably your best option to make sure your voice gets heard this election if you can't be there in person.
And that's the most important thing, right? Making sure your voice gets heard.