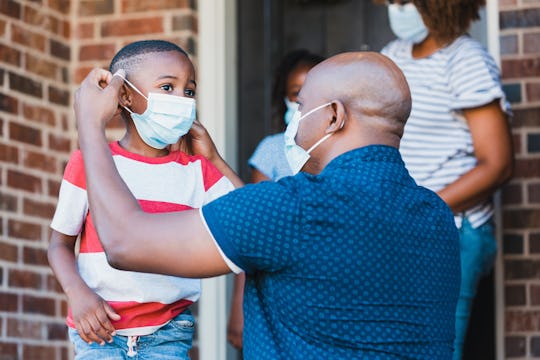 SDI Productions/E+/Getty Images
What To Do If You & Your Partner Don't Agree On What's Safe Post-Quarantine
Even if you and your partner have both spent the past several months desperately wishing for things to get back to "normal," now that restrictions are beginning to lift, you might not be seeing eye-to-eye on what your family's next steps should be. Maybe you're still too worried to send your kid on a playdate while your partner is ready to plan a neighborhood barbecue, or maybe it's the reverse. Either way, you're both pretty stressed. So what should you do if you and your partner don't agree on what's safe post-quarantine? The last thing your relationship needs right now is more stress.
"It's definitely a difficult time to be a parent and to have to make some tough decisions for your kids when this is something that we have no certainty about," couples therapist Jessica Cline, MSW, LCSW, tells Romper. "Of course, it leaves parents with the huge decisions that they may not necessarily agree on."
And just to make your life even more complicated, depending on the state you live in, what's "OK" today might not be OK tomorrow. In a world where things feel increasingly unstable (especially for your kids), it's important for you and your partner to work together to stabilize your relationship.