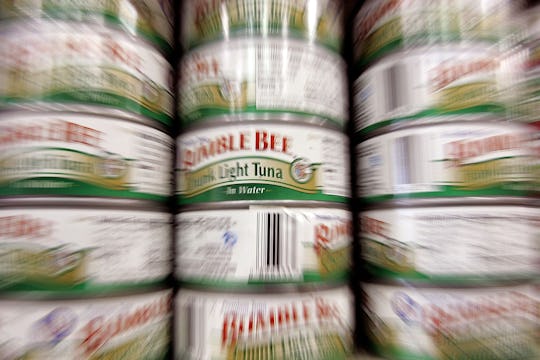 Tim Boyle/Getty Images News/Getty Images
What To Do If Your Bumble Bee Tuna Was Recalled
Before you make your next tuna fish sandwich, you might want to check the can's label, especially if your brand of choice is Bumble Bee. The company this week announced that it was voluntarily recalling 31,579 cans of tuna after an outside supplier's machinery malfunction. Luckily, they caught the error early, before any reported illnesses. Here's what to do if your Bumble Bee tuna was recalled, in case you're still worried.
The cans in question were produced in February 2016, and shipped all over the country. Bumble Bee is recalling them because they pose a risk of contamination by "spoilage organisms or pathogens," according to the FDA, but if you've already eaten some of the affected tuna, don't panic. It seems like this might be one of those better-safe-than-sorry situations. "The recall is being initiated out of an abundance of caution due to the possible under-processing of the affected products," a Bumble Bee spokesperson said in a statement, according to CNN.
Still, if you stocked up on affected tuna lately, don't try to show off your stomach of steel. (There are better ways to lead an adventurous life than by eating recalled tuna!) The company advised consumers recently to toss cans with codes starting with the letter T, with "best by" dates for February 2019. The cans will have one of the following three label UPCs: 8660000020, 8660000021, or 8660000736. More detailed info on exactly which cans are affected can be found on the Bumble Bee website.
And never fear, thrifty types, or those who spent their entire paycheck in the tuna aisle at Costco! Bumble Bee will happily reimburse you. All you need to do is peel off the label before chucking the can in the trash (or retain some other proof of purchase), then call Bumble Bee's Consumer Affairs team at (888) 820-1947 between the hours of 9am and 6pm ED.
Bumble Bee isn't the only company recalling their tuna. Tri-Union Seafoods LLC (aka the people who bring you Chicken of the Sea) announced their own recall a day after Bumble Bee's, for over 100,000 cans that may have been undercooked. You can find the affected cans listed on the FDA website. Return them to the store where you bought them for a full refund. But the tuna recall trend doesn't stop there! Grocery chain H-E-B issued a recall of 10,752 cans of Hill Country Fare as well recently, also due to malfunctioning equipment. Make sure you get rid of those too!
And no, this is not some bizarre coincidence/cosmic joke on tuna lovers. Turns out all of these recalls were for cans produced in a factory operated by Chicken of the Sea. Shue Wing Chan, president of Tri-Union Seafoods LLC, said in a statement,
The health and safety of our consumers is our number one priority. As soon as we discovered the issue, we took immediate steps to initiate this voluntary recall, alerting our retail customers that received the product and instructing them to remove it from store shelves.
So go through those tuna cans, and maybe consider a turkey or ham sandwich for lunch tomorrow instead.