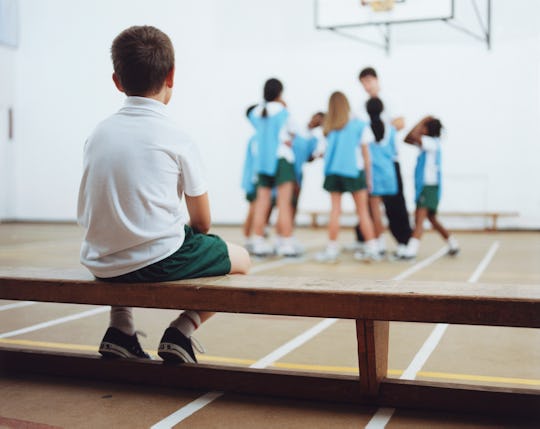 Alistair Berg, Getty Images
Here's What To Do If Your Kid Gets Bullied For Wearing A Face Mask
Bullies will look for any reason to taunt their targets, and rule-abiding children have always been their favorite targets. In our current reality, that means there are likely kids out there who will tease your child for doing the right thing and wearing a mask, all in the hopes that they'll succumb to the peer pressure and take it off while they're in school. So what can you do when your kid is being bullied to ditch their mask?
"It's hard enough to cope with bullying during the best of times, but during the age of COVID-19, it's even harder," psychiatrist Dr. Carole Lieberman, M.D., author of Lions and Tigers and Terrorists, Oh My! How to Protect Your Child in a Time of Terror, tells Romper.
In anticipation of this particular type of bullying causing problems during the school year, the Centers for Disease Control and Prevention (CDC) released guidance for schools on how to handle the issue.
"Stigma, discrimination, or bullying may arise due to wearing or not wearing a cloth face covering. Schools should have a plan to prevent and address harmful or inappropriate behavior. Not all families will agree with school policies about cloth face coverings. Schools should have a plan to address challenges that may arise and refer parents, caregivers, and guardians to CDC's guidance on cloth face coverings."
Schools should have a plan in place, but you should, too. These expert tips will help you keep you kid safe and happy this year.