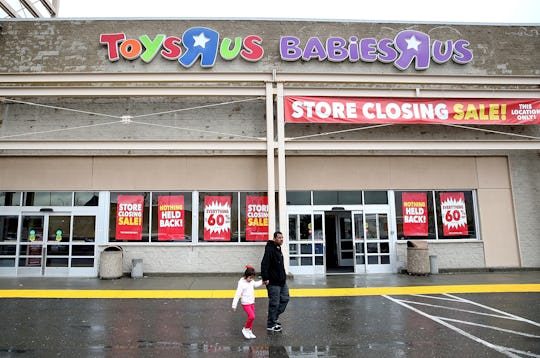 Justin Sullivan/Getty Images News/Getty Images
Here's What You Need To Do With Your Toys "R" Us Gift Cards — & Fast
As I'm sure you've heard by now, Toys "R" Us is closing all of their 800 remaining stores — and that includes Babies "R" Us, which is also the worst for us first-time moms who happen to be registered there. But as far as Toys "R" Us goes, if you have some lingering gift cards stashed in your wallet from your kid's birthday party, you may be wondering what to do with Toys "R" Us gift cards. How much time do you have left to use them, and what happens if there's still a balance on there?
Unfortunately, it's not good news.
As of today, there are 25 more days to use your gift cards on whatever limited inventory Toys "R" Us has left in their stores, since liquidation has already begun. This information was originally found in a USA Today article written on March 15, where the publication reported that consumers had 30 days. It is March 20 as of the writing of this article, so plan accordingly.
And unfortunately, Business Insider reported that if you don't use those gift cards in the 25 days you have left, they'll "expire" and be worth nothing. These terms are set in stone for not only Toys "R" Us and Babies "R" Us gift cards, but the "rewards dollars," and "endless earnings," too, Business Insider noted. Even if you try to file a lawsuit to "recoup" your losses from unused gift cards and rewards dollars, you'll be out of luck. Business Insider wrote that folks tried to do this with unused gift cards when Border's (RIP) went under, and it was ruled that they wouldn't receive a refund. Oh, and the estimated refund would have been worth $210.5 million total. Where they thought Border's would come up with the money after filing for bankruptcy, I'm not sure.
According to Business Insider, as far back as September, Toys "R" Us filed for bankruptcy and only "recently started clearance sales at about 170 stores it plans to permanently close in April." And all of their "going out of business sales" for all stores will start within weeks, according to the article. So you better keep an eye out for when those sales will start so you can actually have items to choose from while cashing out those last few gift cards. Trust me when I say it's a madhouse already — at least the Babies "R" Us stores I went to were. My husband and I are registered at Babies "R" Us for our first baby, and when we went a few weeks ago to take advantage of some of the sales on baby furniture, it was an absolute mess. All the shelves were picked clean, nothing was where it was supposed to be, and of course, nothing we registered for was available at the store. Cue panic attack now.
Why is this horrible event happening? Romper reported that it could be because we are making it too hard to have babies. "That is, women (and men) are having fewer babies later, at least in part because we make it f*cking hard to do so, financially speaking, and also in part because of the workplace Siberia that is Time Off After Kids. In the U.S., we are hostile to families," Janet Manley reported. The New York Times article said this situation is "a textbook example of disruption by internet retailers." So in other words, we can thank websites like Amazon and other online retailers for the demise of the brick and mortar stores.
However, I will say nothing will beat the experience of going into a Toys "R" Us when you're a kid and being surrounded by toys everywhere you look. Amazon doesn't play the "Happy Birthday" song over the speakers when there's a little boy or girl celebrating their birthday and shopping either. Can you tell I'm a bit bitter I won't be able to take my kid to Toys "R" Us after he's born and have him be a Toys "R" Us kid?
Long story short, if you have any amount of money left on those Toys "R" Us (or Babies "R" Us) gift cards, you better head over to your local Toys "R" Us as soon as you can, not only before they run out of everything they have in stock, but because those gift cards will be worthless pieces of plastic after the next 25 days. Good luck.
Check out Romper's new video series, Bearing The Motherload, where disagreeing parents from different sides of an issue sit down with a mediator and talk about how to support (and not judge) each other's parenting perspectives. New episodes air Mondays on Facebook.