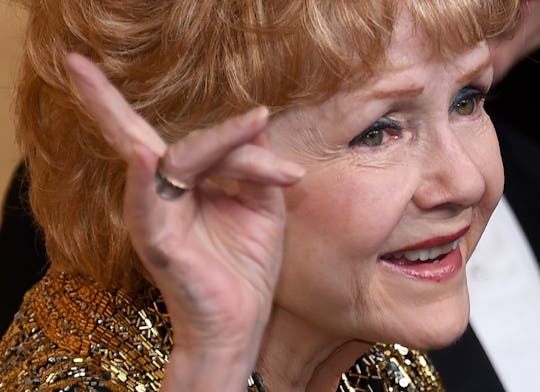 Ethan Miller/Getty Images Entertainment/Getty Images
About Debbie Reynold's Last Appearance
Just the day after the death of her daughter, actress Carrie Fisher, Debbie Reynolds has also died at the age of 84. One of the most well-known actresses and singers of the 1950s and 1960s, her career culminated in the winning of a Screen Actors Guild Lifetime Achievement award in 2015, but she worked on projects for both the big and small screens all the way through 2016 — clocking more than 60 years in show business. She was a commanding presence and a talented entertainer, and her appearances range from the 1952 musical Singin' in the Rain all the way to a recurring role on the NBC sitcom Will & Grace. She's graced countless red carpets, but what was Debbie Reynolds' last appearance?
Reynolds began her career in the 1940s, and led Fisher into the acting businesses as well, welcoming her to the ranks of Hollywood royalty when Fisher landed the role of Princess Leia in the original Star Wars trilogy in 1977, at the age of just 19. Both mother and daughter enthralled audiences over the course of their illustrious careers. And although they did not frequently collaborate, Reynolds' last major project was a successful and critically acclaimed documentary that featured both her and Fisher front and center. In fact, Fisher told People in May that the film was important to her because of her mother's ailing health: "It's a lot of times terrifying, but watching my mother, who's incredibly resilient, coping with certain health issues that she's had," she said at the time. "We were really lucky we got really what probably could be her last [big project]."
The film, which premiered at the Cannes Film Festival in France earlier this year, is called Bright Lights: Starring Carrie Fisher and Debbie Reynolds. According to The Washington Post, reviews hailed it as an "intimate, sometimes painfully honest examination of fame, family, aging and mother-daughter dynamics." For these two, who were by many accounts very close despite sharing a rocky relationship at one time, the film could not have been made at a more opportune time for their fans; No one knew at the time it premiered at Cannes that before the years was up, both, tragically, would have died.
For a woman who built a career on scripted parts such a 1964's The Unsinkable Molly Brown (for which she was nominated for the Oscar for best actress) to assuming the titular role in the sitcom The Debbie Reynolds Show, switching to documentary filming was a strange transition. "She asked for a script when we started shooting," director Fisher Stevens said of Reynolds in May, according to People.
In addition to working on the documentary, the Post reported in May that Reynolds at the time was still performing in nightclubs when she felt well enough to do so. It's a gift to her fans that her last major on-screen appearance is scheduled to hit HBO early next year, so they can remember and celebrate the great talents that were Debbie Reynolds and Carrie Fisher.