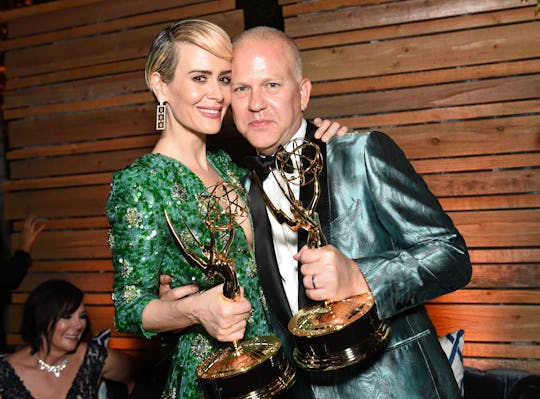 Emma McIntyre/Getty Images Entertainment/Getty Images
What Will 'American Horror Story' Season 7 Be About? It's A Return To Season 4
American Horror Story: Roanoke isn't quite through terrifying and disturbing us yet, but that doesn't mean viewers and fans can't start speculating about the next season of the horror anthology series. Once the season premiered, Ryan Murphy was particularly generous with previewing what fans could expect to see happen, giving us the heads up when it came to "Chapter 6's" big twist and the character-switch for some of the principal cast. Likewise, he's been fairly open about his future plans for the series. Does that mean viewers already know what American Horror Story Season 7 will be about? Not quite.
While mum's the word on the specifics of the theme, casting, and details of the seventh installment of the show, that should come as no surprise. AHS famously keeps its viewers in the dark, waiting anywhere from a few months to when the season is actually airing to reveal what the heck is going on. On the other hand, Murphy has previewed a bit of what can be expected when AHS: 7 hits the small screen, mostly likely sometime in Fall 2017.
On a press conference call ahead of the game-changing "Chapter 6," Murphy assured fans that the seventh season wouldn't be "shrouded in secrecy" the way that Roanoke was ahead of its premiere. "We're going to announce [the premise] in the spring," Murphy told reporters. He also added:
"Next year, we will be going back to some Freak Show characters, deeper histories and mythologies. So we're sort of still exploring Season 4 in Season 7."
Fans have already explored Season 4 villain Dandy Mott's family history with the introduction of Edward Mott in Roanoke, so I'm sure the "deeper histories and mythologies" that Murphy mentioned a return to in Season 7 will be worthwhile and engaging. The show has gotten more and more explicit about its inter-season connections as it's gone on. It remains to be seen whether viewers will actually see those particular Freak Show characters again, or if the seventh season will only take elements and figures introduced in Freak Show and do something altogether different (in terms of theme and setting) with them. In any case, it sounds like we can expect more information about Season 7's theme in Spring 2017.
AHS was renewed for a seventh season back in early October, and almost immediately, Murphy began divulging details. Specifically, in a cover story interview with Entertainment Weekly, he informed viewers that he already had his new story in mind (though, of course, it hasn't begun shooting yet). In comparing the forthcoming season to the currently airing one, Murphy noted that, like Roanoke, Season 7 would be "a narratively strange idea." I can't imagine any future season being as twisty, shocking, and meta as Roanoke, so I'm guessing the new installment will be "strange" in some other way.
Though the series has only been officially renewed up through Season 7, Murphy already has begun work on the show's future beyond that. Back in September, he revealed to Entertainment Weekly that he was planning a "secret season" of American Horror Story with a writer and that only he and the other writer know about it. He has also previously revealed that fans would be seeing a return to Coven in a future season (though, at the time, Murphy wasn't sure in what season that might be happening). He later clarified that this Coven redux season would actually be a Murder House/Coven crossover.
In other words, it seems like everyone has plenty of AHS madness to look forward to in the years to come!