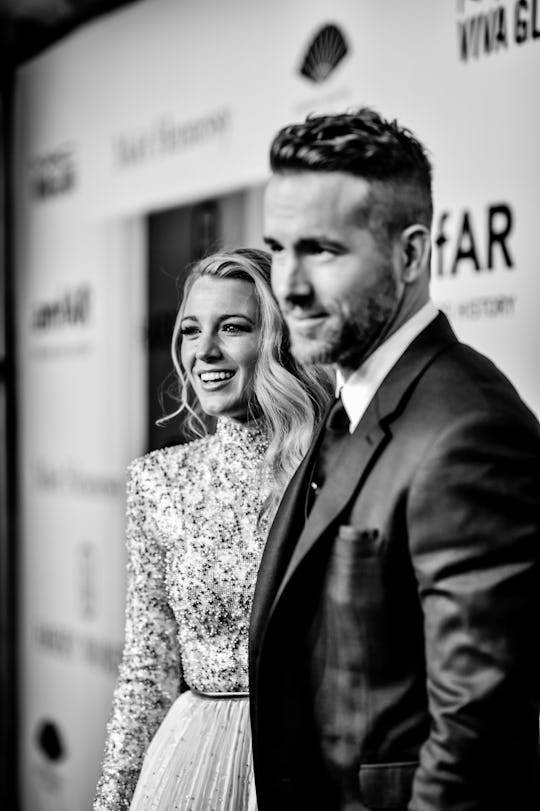 Mike Coppola/Getty Images Entertainment/Getty Images
What Will Blake Lively & Ryan Reynolds Name Their Second Child? They're Keeping It Secret
Actors Blake Lively and Ryan Reynolds are one of Hollywood's favorite couples, and any day now, they'll be welcoming baby No. 2. The couple already have a daughter, named James, who was born in 2014. Since their first child has a somewhat untraditional name, many are asking: what will Blake Lively and Ryan Reynolds name their second child?
When their daughter, James, was born Reynolds explained that he and Lively didn't think they were "breaking any new ground" by giving her a name that was traditionally male. "I mean, I didn't call her Summer Squash Meadow Lark, or something," he joked with the host of Good Morning Britain. The name James was a tribute to Reynolds' father, who died shortly after baby James' birth after a two-decade long battle with Parkinson's Disease.
Both Lively and Reynolds come from big families, and have joked before about wanting to raise a lot of kids together. Lively joked with TODAY back in June that she and Reynolds are "officially breeders" and gushed about baby James, who she called "the most fun, funny human being I've ever been around in my life," according to The Daily Mail.
Last month, Reynolds chatted with E! News and mentioned that while he loves hiking, Lively hasn't been hitting the trails with him lately: "My wife is just extraordinarily pregnant right now, so there's not a lot of hiking in her immediate future," he joked, but also added that "There's nothing on earth more grounding than having a baby."
Neither Lively nor Reynolds have given fans any clues about what baby names they might be considering for James' sibling. Lively didn't even confirm her pregnancy until June — even though rumors had begun to circulate as far back as April. After James' birth in December 2014, the couple didn't announce her birth for another month, and didn't reveal the name until March. So, even if Lively's due this fall, it wouldn't be surprising for the family to keep mum about James' little brother or sister for a few months. And maintaining privacy in Hollywood being as difficult as it is, keeping the new baby a secret won't be a small task.
Shortly after James' birth Lively told PEOPLE, "I also feel like my first child is going to be the oldest sibling to the next kid, and that may change each and every year. I'm looking forward to how one baby influences the other, and to my family as a whole, every single chapter."
Lively became famous for her role in Gossip Girl as Serena van der Woodsen, and Reynolds made a name for himself in as Andrew Paxton in The Proposal opposite Sandra Bullock back in 2009. Could either of those character names make an appearance in the Reynolds' clan? Who knows, but since Lively's a Gossip Girl alum, we know how good she is at keeping secrets.