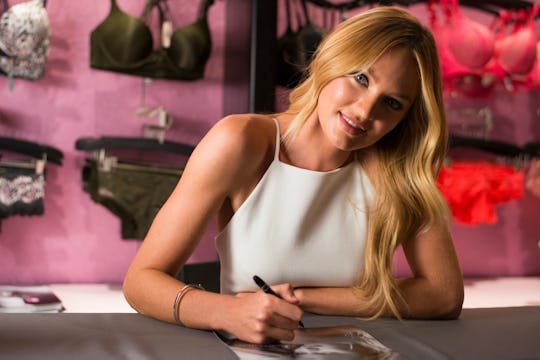 Cooper Neill/Getty Images Entertainment/Getty Images
What Will Candice Swanepoel Name Her Baby? Her Baby Shower Dropped A Huge Hint
Victoria's Secret model Candice Swanepoel announced her pregnancy in March, and now, it looks like she may have accidentally announced something else: Instagram photos shared by the party planner who arranged her baby shower appear to reveal what Candice Swanepoel will name her baby. Hope she had permission to share! People has reported that fans already know the baby's sex thanks to a May Instagram post, which she captioned, "My not so little boy."
The model herself shared a pic on Instagram on Tuesday featuring the cake and other treats from the safari-themed event (a nod to her South African heritage), and she tagged her party planner, Mariana Paraiso, in the caption. Follow the link, and fans will see more posts from the party by Paraiso, who, it must be said, puts together some truly lovely fêtes. But look past the flowers, cupcakes, and giant stuffed giraffes – I know it's hard – and focus on the banner on the wall bearing the name Anacã. The anacã is an Amazonian parrot also known as the red fan parrot or hawk headed parrot, and I can't think of any reason for its name to be strung up on the wall other than the fact that it's also the name of Swanepoel's son.
This will be the first child for Swanepoel and her finacé, Brazilian model Hermann Nicoli. The couple got engaged last year, and have been together for 11 years; they met in Paris when Swanepoel was just 17 years old. Swanepoel has previously opened up to E! News about how she doesn't mind having a sometimes-long distance relationship; after jokingly referring to herself as a "lonely girl" when she revealed that she wouldn't be spending Valentine's Day 2014 with her beau, she elaborated: "You don't have to have your loved one with you. You can go out with the girls, have a good time."
Now, the question is, will Swanepoel return to the runway after her baby is born? Shortly after she and her colleague and best friend Behati Prinsloo announced their tandem pregnancies, Victoria's Secret chief marketing officer Ed Razek posted a congratulatory pic on Instagram, captioning it, "I am so happy for these two amazing beauties and mums to be! See you at the fashion show Angels!" according to Vogue UK. But in 2014, she told the magazine, "I know that my days of being in big cities are numbered," and said she'd like to raise children "on a farm somewhere" they way she'd been raised in South Africa. It seems that she's probably due sometime in October, and the Victoria's Secret Fashion Show is typically staged in November, so it's probably safe to say she'll be skipping it this year, at the very least.