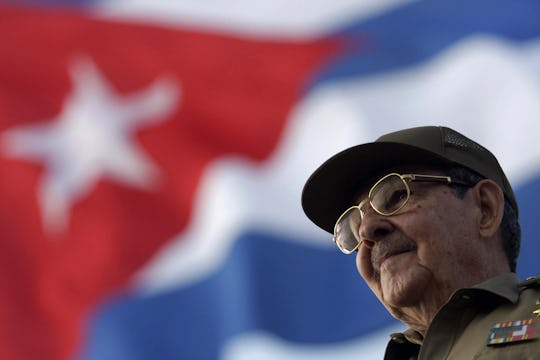 AFP/AFP/Getty Images
What Will Happen To Cuba Under A GOP-Controlled Congress? Nothing Is Certain
Fidel Castro's death brought out a lot of mixed emotions from Cubans and those of Cuban descent — some celebrated the death of the communist leader, others grieved the loss. As the country enters a mourning period, the effects of Castro's death will really begin to take shape — mainly in the United States, which lifted a travel ban with Cuba in January 2015 and completed the process just this year. So what will happen to Cuba under a GOP-controlled Congress? Congress has largely been unwilling to work with President Obama thus far, and his decision to allow limited travel to Cuba only strained tensions more. Will that change under a President Trump?
In 2014, Obama attempted to normalize relations with Cuba, being the first president to meet with the Cuban president, Raúl Castro, for the first time in 55 years. Since then, there have been commercial flights from the United States to and from the country and Americans can now visit the island under specific circumstances — yet the borders to the country are not completely open. According to Foreign Policy, this is because Congress has done little to help Obama and the normalization process — and things are not likely to get better as long as Republicans remain in control of both the House and the Senate — the results of past elections have ensured that all three branches of government lean right. There is no telling what Congress will do now that Republicans are in control of the government as a whole, especially when they've got an ax to grind with the current president and his fellow Democrats.
Raúl so far has criticized Congress for propping up an embargo against Cuba, according to Foreign Policy. Now, with Republicans in control of Congress for the next four years, it seems as if the amended embargo, which bans the United States from openly trading with Cuba, is more than likely going to stay in place for the time being.
Just because congressional leaders won't budge on the embargo, however, does not mean that they will completely reverse Obama's legacy of creating diplomatic ties with Cuba. According to USA Today, congressional leaders will reportedly not "call for a reversal of diplomatic ties" but instead urge the Trump administration to "put more pressure on the Cuban government to implement democratic reforms" and put an end to communism in Cuba. This could not be more evident than in the various GOP politicians' reactions to Castro's death, which range from optimism for the future of Cuba to condemnation of Castro's actions. Most notably, Senate Majority Leader Mitch McConnell said in a statement:
While Fidel Castro is gone, sadly the oppression that was the hallmark of his error is not. It is my hope that the Cuban regime will use this opportunity to turn the page for the good of Cuban people and all of those living in the Americas. Freedom and democracy are long overdue in Cuba.
This is all relatively good news for the legacy of the Obama administration, as his relationship with Cuba could be viewed as one of his biggest accomplishments. Currently, according to The Hill, Congress is split on its opinions about travel to Cuba.
However, for President-elect Donald Trump, it might be a different story. Trump's incoming chief of staff and former Republican National Committee chair Reince Priebus told Fox News Sunday that Trump is "absolutely" willing to reverse the opening of diplomatic relations with Cuba, according to Politico. "Repression, open markets, freedom of religion, political prisoners — these things need to change in order to have open and free relationships," Priebus said. "There's going to have to be some movement from Cuba in order to have a relationship with the United States."
For now, it seems that good relations with Cuba will remain. However, if 2016 has taught us anything at all, it's that nothing is certain under a Trump presidency.