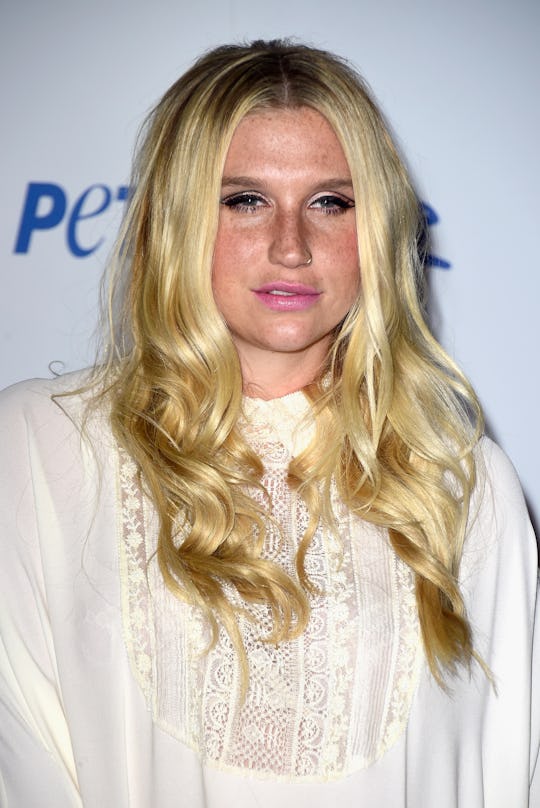 Frazer Harrison/Getty Images Entertainment/Getty Images
What Will Happen To Kesha Now? Dr. Luke Calls Her Comments A "Publicity Stunt"
Another day, another obstacle in Kesha's battle to be released from her contract with Dr. Luke. The "Tik Tok" singer took to Instagram Sunday claiming that she was offered "freedom" in exchange for a public apology in which she'd recant her rape allegations against the producer, which she (understandably) turned down. So what will happen to Kesha now?
According to the Guardian, Kesha wrote "THIS IS WHAT HAPPENS behind closed doors," and insisted that she'd rather "let the truth ruin [her] career than lie for a monster ever again." But a rep for Dr. Luke has since released a statement regarding her latest claim, calling the allegation a "publicity stunt," according to Rolling Stone:
The Court repeatedly stated Kesha is already free to record without Dr. Luke, and that she had not presented any facts supporting her claims. That's because all the evidence — including Kesha's own videotaped sworn testimony — show her allegations are false. The only thing Kesha is not free to do is to continue to lie about Dr. Luke through publicity stunts and outrageous smears, ignoring the fact that by her own free will she went to work and entered into new contracts with Dr. Luke years after this 'incident' supposedly happened. Her goal all along has been solely personal enrichment by seeking to break contracts that brought her success and millions so she can enter into more lucrative ones. We look forward to our day in court holding Kesha accountable for her lies.
Dr. Luke has denied all of Kesha's allegations that he raped her.
Update: Linda Carbone, founder of Press Here, which represents Dr. Luke, issued the following statement to Romper regarding Kesha's allegations that Dr. Luke physically and mentally abused her:
Kesha's allegations against Dr. Luke are false, concocted to smear him publicly so that Kesha can get out of standard industry contracts that she entered into after she claims the alleged incident occurred. We have publicly insisted all along that Kesha should admit her lies and tell the truth. Everyone has a responsibility to learn the facts before condemning Dr. Luke in the media, particularly since Kesha swore under oath that her allegations are false. When the truth wins out in court, everyone will recognize that Kesha has victimized Dr. Luke and actual victims of sexual assault with her lies.
Kesha and Dr. Luke's legal battle might be full of back and forth denials and accusations, but one thing that does seem to be for certain in this case? It could have serious implications for both of their careers. Since Kesha was denied an injunction in her case in February, according to Entertainment Weekly, she is still legally obligated (for now, at least) to fulfill her six-album contract with Sony (so far, she's released two). Sony has offered Kesha the opportunity to record for the company without working with Dr. Luke (she is signed to a joint deal between Sony, and Dr. Luke's own label, Kemosabe). But, according to Vanity Fair, Kesha's lawyer argued that Sony's offer was an "illusory promise," that the company could easily go back on. Judging by her latest Instagram post, it seems as though Kesha is continuing to refuse to record for Sony while her legal battle is ongoing, but there are still a number of ways this situation could play out.
Sony, for one, could insist that Kesha release a third album within a certain time frame, according to Vanity Fair, although if Kesha doesn't actually want to record new music, then it probably wouldn't make financial sense for Sony to invest in a project that the artist won't support. More likely, according to Rolling Stone, would be that the two parties end up settling privately, probably resulting in Kesha remaining at Sony, but severing ties to Dr. Luke.
Interestingly, though, Dr. Luke's contract with Sony is expiring in a year — and that could be a big factor in what happens next. According to Spin, reports suggest that Sony might be terminating its relationship with Dr. Luke, possibly even negotiating to end the contract early, due to all the controversy surrounding the case. In addition to the negative publicity stemming from his legal battle with Kesha, according to Billboard, Dr. Luke's label, Kemosabe, is "bleeding money," and hasn't proven to be very successful outside of his work with Kesha. That could potentially add up to enough of a reason for Sony to let Dr. Luke go — and, depending on the details of Kesha's contract, according to Vanity Fair, she could end up staying on with Sony exclusively, which would allow her to make new music without any ties to Dr. Luke.
Alternatively, Sony could opt to cut its losses and let Kesha out of her contract (being dropped by a label is pretty common, and wouldn't be entirely surprising if Sony decides it won't see a return on its investment continuing to work with Kesha against her will). But, if neither side wants to budge, and the case continues to play out in the courts, it could be years before any resolution is reached, according to Rolling Stone — and that would be bad news for Kesha's music career. As entertainment lawyer Ben McLane told Rolling Stone, "Your window to be a pop star kind of closes" after a while, and that reality means that Kesha might not necessarily be able to recover if she doesn't actually continue to release music.
Of course, none of these options seem to really be a win for anybody, regardless of the outcome, and arguably, a lot of the damage is already done (especially for Kesha). But judging by the outpouring of support she's received from fans and fellow musicians alike, it definitely seems like there are a lot of people out there who want to see her get through this, and get back to making music — but this time, on her own terms.