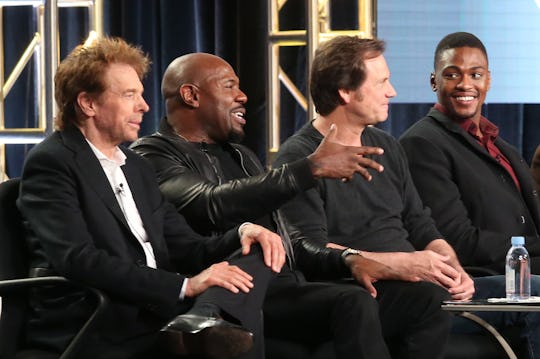 Frederick M. Brown/Getty Images Entertainment/Getty Images
Bill Paxton's Last Project Is Still Airing On CBS
Bill Paxton died suddenly after suffering complications from a surgery Saturday, but the beloved and prolific actor still has a project in the pike. The 61-year-old best known for roles in blockbusters such as Alien and Apollo 13 had recently wrapped production on Training Day, a CBS cop drama in which he played the lead, and nine of the series' 13 episodes have yet to air. Fans will, of course, watch those installments with a sense of loss and appreciation, but what will happen to Training Day now that Paxton has died? CBS has not yet responded to Romper's inquiry about the future of the show, but it seems incredibly unlikely that it will be renewed for a second season.
Training Day premiered on Feb. 2, with Paxton playing the lead, Detective Jim Rourke. Although it's adapted from a 2001 Oscar-winning film also called Training Day, the 2017 version was a "very modest ratings performer" and had been considered unlikely to get a second season even before Paxton's death, Deadline reported. But the show, even in its short (but ongoing) run will nonetheless serve as a touchstone for fans — and a poignant memory for Paxton's son, James. That's because one of the episodes features the 22-year-old budding actor as a guest star alongside his father, a job that was "surreal" for Paxton even in the moment and takes on a whole new meaning after his death.
In an interview with People published earlier this month, Paxton — who also has a daughter, Lydia, 19, with his wife of 30 years, Louise Newbury — said that son James "plays the son in a father-son robbery team," but Paxton isn't his onscreen father. Instead, Paxton's morally ambiguous detective character offers him some insight that was strange even in the moment, given their off-screen relationship. "And my character, whose dad was also a criminal, tells him, 'We're both our father's sons, but that doesn't have to define us.' It was surreal saying that to him," Paxton told the magazine.
And it will be surreal for viewers to catch the next episode of Training Day, which is scheduled to air next Thursday, through a new, somber lens. And Paxton, even in death, would surely be happy to bring entertainment into people's homes. In January, he told The New York Daily News that one of the reasons he opted to participate in the cable series was to ensure that such a show would be accessible to people with low incomes, as well. "There are a lot of people who aren't getting their sling box or HBO package or their Direct TV. You know why? Because they can't afford it," he said at the time. "Those people deserve entertainment and I'm only too happy to supply some to them."
Whatever the fate of Training Day, Paxton has certainly achieved his goal of delivering high-quality entertainment to as many people as possible, both throughout his illustrious career and with his final project.