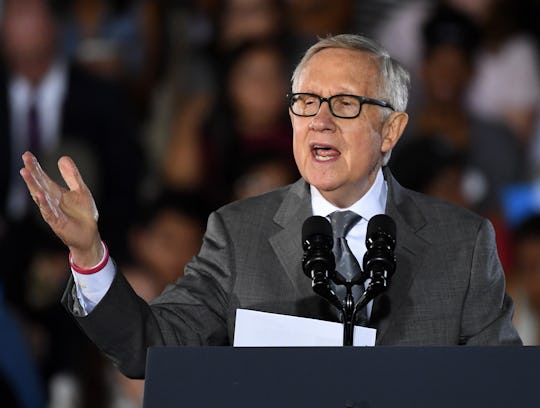 Ethan Miller/Getty Images News/Getty Images
What Will Harry Reid Do Next? The Senate Minority Leader Is Retiring
Nevada Sen. Harry Reid doesn't back down from a fight. The Senate Minority Leader has long staked his reputation on both his tenacity and his pugnacity (he was an amateur boxer in his youth, after all), throughout much of his storied — and at times, contentious — career. So now that Reid is retiring and deciding what to do next, it should come as no surprise that he wants the last word.
Reid recently wrote an op-ed piece for The New York Times about his time in office, his regrets (he had a few), and the future of the Democratic Party, dropping in a few words of caution for his Republicans colleagues. Despite President-elect Donald Trump's shocking win on Nov. 8 against Democratic nominee Hillary Clinton, Reid has hope for the future. He wrote:
To Democrats, I say it has never been more important to stand up for the things we believe in. We are entering a new Gilded Age. Next year, a billionaire president who just settled a fraud suit for $25 million over his business exploits will be pushing tax cuts for the top 1 percent, supposedly in the name of populism.
Much of the responsibility for separating what is real and what is fake will fall on Democrats. We should ask ourselves: Do the choices we make about how we spend our time keep us in touch with what we believe in, and what is real in our own lives?
Thursday marked Reid's last day on the job, after serving in the Senate for 34 years. He has served as the Minority Leader, Majority Leader, Minority Whip, and Majority Whip. After suffering a major eye injury in 2015, Reid announced he would not seek reelection for his seat (although Reid has said he made the decision to retire before the injury). Reid's influence in the Senate has been far-reaching; He was an integral part of helping President Obama push the Affordable Care Act on Christmas Eve in 2009, pushing through a straight-party line vote.
In 2013, Reid broke with four decades of tradition to create what was dubbed the legislative "nuclear option," which was intended to help a presidential nomination move beyond a potential filibuster. While many critics are concerned that this move could hinder Democrats concerned with President-elect Trump's Cabinet choices, Reid still believes it was the right choice at the time. In an interview with Politico, Reid explained,
I don't know if it's my biggest achievement, but I'm satisfied we did it. We had to. Look at why it was done. We got almost 100 judges approved … we saved the integrity of different agencies of government. No, think of what our country would've been without that.
Former Secretary of State Hillary Clinton made a rare appearance to honor Reid on his last day, showing up to stand by Reid as his official portrait was hung in the Kennedy Caucus Room in the Russell Senate Office Building.
Reid was surprisingly unsentimental about his retirement from Congress during his interview with Politico. As he plans to spend more time in his hometown of Searchlight, Nevada, Reid reflected on his 34 years of service by saying,
I'm sure there are people more capable than I, better looking than me, better educated than me, smarter than me. But I've got the job. And I try to do the best I can with the job. … I look around and I say, "Well, I'm the one that has to do it." So I have done the best I can.
Whether you agree with his politics or not, whatever's up next for the longtime senator, following his many years of service, is surely deserved.