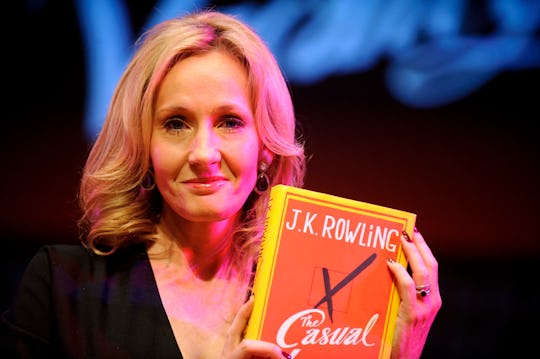 Ben Pruchnie/Getty Images Entertainment/Getty Images
What Will JK Rowling's Next Book Be? Fans Won't Have To Wait Much Longer
With Friday's release of a new story about Garrick Ollivander, the beloved wandmaker of the Harry Potter universe, fans and readers have been wondering what J.K. Rowling's next book will be. In February, the 50-year-old author revealed that an eighth Harry Potter story was coming this summer, nine years since Harry Potter and the Deathly Hallows was published. Harry Potter and the Cursed Child Parts I & II isn't a "book" or novel per se; rather, it's a special edition of the script for the play by the same name that premieres this July at The Palace Theatre in London's West End.
The Cursed Child is neither a prequel nor sequel to the last Harry Potter book, but it does feature the classic characters fans and readers have come to know over the last 20 years, including Harry Potter, Ron Weasley, and Hermione Granger. The story revolves around Harry's youngest son Albus, and how he "must struggle with the weight of a family legacy he never wanted" while Harry "grapples with a past that refuses to stay where it belongs," according to The Cursed Child's official website. The play was written by Jack Thorne, and was based on an original story written by Rowling, Thorne, and John Tiffany. More intriguing is that the play is meant to be watched in two parts, either as matinée and evening performances, or two evening performances.
That said, even though fans aren't getting a new novel from Rowling this summer, a new edition of Fantastic Beasts and Where to Find Them will be released next year, with new content from Rowling included. A widely-anticipated film adaption of Fantastic Beasts is coming to movie screens this fall, just in time for the lucrative holiday movie season. A new illustrated version of The Chamber of Secrets — the second Harry Potter book — will be released this fall as well.
In October of last year, Rowling released the third book in her Cormoran Strike series, Career of Evil. Rowling's latest book series follows the exploits of Cormoran Strike, a private investigator, and his assistant, Robin Ellacott. The series's publication received particular attention when Rowling revealed she had written the books under the pseudonym "Robert Galbraith." Rowling's last non-series book unrelated to either Harry Potter or Cormoran Strike, The Casual Vacancy, was released in 2012 to widespread critical acclaim.
Beyond the special editions of The Cursed Child scripts to be released this summer, there's no news yet from the author about any new novels she may have in the works — but that doesn't mean that fans aren't ready for even more literary magic from Rowling.