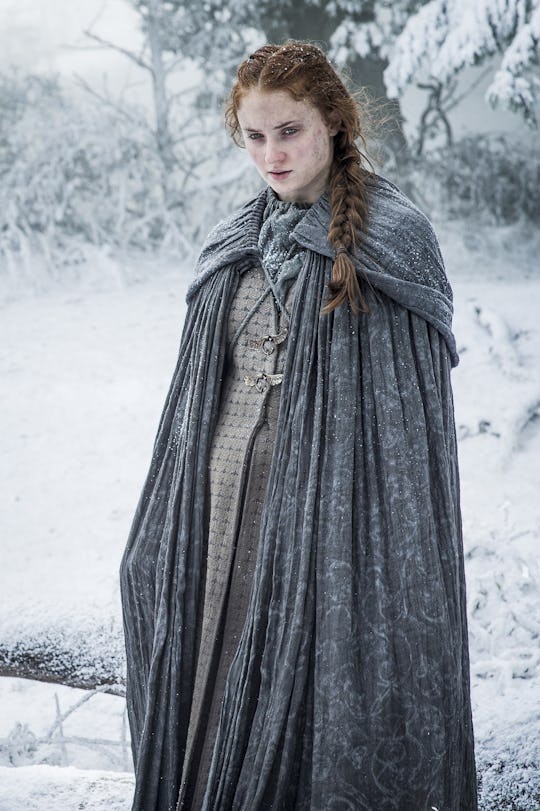 Courtesy of HBO
What Will Jon & Sansa Do Next On 'Game Of Thrones'? It's The Matchup We've Been Waiting On
Jon Snow and Sansa Stark finally reunited on the Season 6, episode "Book of the Stranger," and it was one of the few happy reunions we've been waiting on for the entire series. So what will Jon and Sansa do next on Game of Thrones, now that the siblings are blissfully back together again? We got a few hints from the episode.
Jon and Sansa each express a wish that they never had left Winterfell, and Sansa apologizes for her behavior towards her bastard brother. Jon takes accountability for being a sulky brat, but they both ultimately forgive each other, relieved to be back together again. When the conversation rolls to the future, for both of them, Sansa asks her brother, "Where will you go?"
"Where will we go?" Jon corrects her. "If I don't watch over you, your father's ghost will come back and murder me." Jon Snow points out that they can't stay at Castle Black, not after he was murdered by his men. Sansa suggests going back to Winterfell, but Jon points out a little problem called The Boltons. "We'll take it back from them," Sansa firmly responds, but Jon is not so sure.
"I don't have an army," he admits. Sansa asks about The Wildlings, but Jon (correctly) points out that they didn't come to Castle Black to serve him.
"Winterfell is our home," Sansa insists. "And Arya's and Bran's and Rickon's, wherever they are. It belongs to our family. We have to fight for it." Jon Snow, defeatedly, confesses that he's tired of fighting, especially in light of his, um, murder, but Sansa pledges to take matters into her own hands if he doesn't.
"If we don't take back the North, we'll never be safe," she tells him. "I want you to help me, but I'll do it myself if I have to." That's all the information we get from the fourth episode, but, from the looks of things, Jon Snow will probably cave — especially after finding out that Ramsay has Rickon. Sansa's conviction is so strong, and she's so significantly motivated to screw over the Boltons in any way she can. Plus, if Jon fails to take her seriously, I somehow doubt that Brienne of Tarth can't muster a rousing speech to rally him into action.
Either way, it would seem as if help is coming to poor Rickon Stark, stuck as Ramsay's prisoner in Castle Black. The good news is, he lives another week, since Ramsay focused his murderous tendencies towards another poor soul in this week's episode. The bad news is, we may have to wait another five seasons for Jon and Sansa to reach Winterfell.