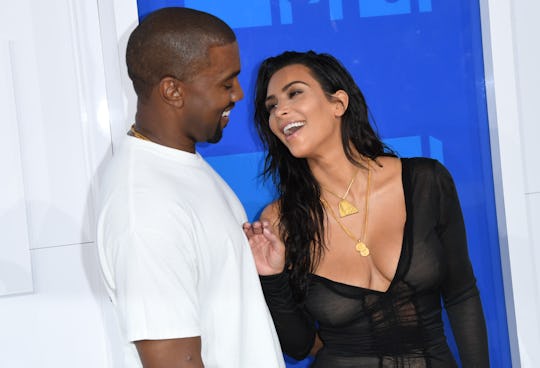 ANGELA WEISS/AFP/Getty Images
Fans Are Already Dying To Know What Kim & Kanye's Baby Girl Will Be Named
Kim Kardashian and Kanye West are expecting and people could not be any more excited about it. On Wednesday, sources confirmed to People that Kardashian and West's surrogate was pregnant with their third child and due in January. And it was later reported that they're having a girl! Now, people are probably dying to know how Kardashian and West will name their baby girl — but fans will have so many months of speculation to think of the perfect one.
Kardashian's publicist had no comment regarding the sex of the baby at the time of publication.
But these next three months are sure to fly so you better think of the perfect name fast. TMZ reported on Wednesday night that sources had confirmed that Kardashian and West's surrogate was not only pregnant but was pregnant with a girl. Kardashian and West, of course, have the best of both worlds, being parents to daughter North and son Saint. Still, it is pretty much guaranteed that they're pretty happy to add another girl into the mix.
Kardashian was super excited in 2013 when Keeping Up With The Kardashians cameras caught her finding out her first child's gender, according to Us Weekly. "I'm so excited we're having a girl," Kardashian said. "Like, who doesn't want a girl? They're the best. And I know that's what Kanye wanted. He wanted a little girl." Now West is about to have two of them.
Maybe North will enjoy having a little sister to play with over her little brother. During a recent appearance on Live with Kelly & Ryan, Kardashian revealed that North hasn't quite adapted to being a big sister, stating, according to People:
I don't know if it's because she's the older sister. I don't know what it is. I thought it was a phase. She does not like her brother and it's so hard for me. She would get so jealous when I would breastfeed and all that kind of stuff. And now the phase isn't going away.
That is definitely something that Kardashian and West will have to figure out once the time comes. But in the mean time there are more important things to tackle — like what they will name their new daughter.
Given the unpredictability and uniqueness of North and Saint's names, one could only expect that they would fall into the same vein. According to E! News, North's name started out as a rumor, but is something that West and Kardashian quickly fell in love with. It is also quite possible that they could follow the Kardashian tradition and name their daughter something that begins with a "K" (although that might be a stretch, considering that none of her siblings have picked K names for their children, either).
But unfortunately, it is entirely too early to tell what they'll name their child, which means the next few months will be dedicated to fans theorizing names. Who knows? They could choose something similar to their children's names (like South West, Sinner West, Angel West) or something completely opposite (like Karen West or Emily West).
No matter the name, the news could not be any more exciting. There will be one more Kardashian girl coming into this world in 2018. So get ready.
Check out Romper's new video series, Romper's Doula Diaries: