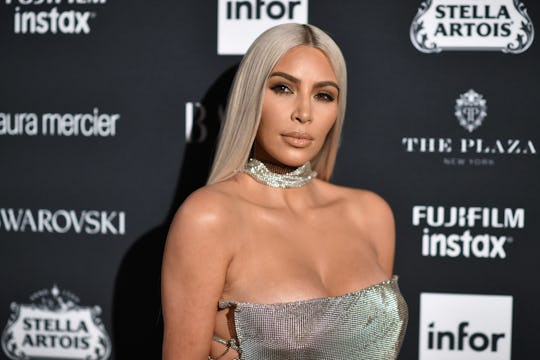 Dimitrios Kambouris/Getty Images Entertainment/Getty Images
Here's What Kim K. Could Name Her 3rd Child, According To The Best ~Fan Theories~
It sounds like it won't be too much longer before another Kardashian-West baby enters the world: after celebrating at a lavish cherry blossom-themed baby shower over the weekend, Kim Kardashian told Ellen DeGeneres Wednesday that she and husband Kanye West were, in fact, expecting a baby girl "soon," according to E! News. What will Kim Kardashian name her third child? So far, the couple seems to be experts at choosing headline-grabbing baby names (I mean, they literally named their first child North West), but Kardashian admitted that they still haven't been able to agree on a name for North and Saint's little sister. Kardashian told DeGeneres that she and West were "freaking out" about not having a name, and that they even tried to solicit ideas from their baby shower guests. But if they really get worried, the fine people of Twitter are totally ready to help them out.
After the are-they-really-serious reaction following North's name reveal, the internet was absolutely ready to bring their baby-naming A game when Kardashian announced her second pregnancy in 2015. One particularly popular fan pick at the time? South West — which, as perfect as it may seem, was ultimately nixed by the couple in favor of Saint. Now that the couple is set to welcome another little girl into the family though, social media is totally ready to throw out its best suggestions once again. And unsurprisingly, some of them are absolutely amazing.
Kardashian told DeGeneres that, for the time being, she and her family had been referring to the baby as "Baby Sister," according to People, and that 4-year-old North had already chimed in with a name suggestion of her own: Star. Kardashian said she wasn't "vibing with it," though, and also laughed off some of DeGeneres' tongue-in-cheek recommendations, like "Lip-Kit West" and "West West," according to E! News.
On Twitter, some fans tried to think outside the box, straying from the directional element of "West," to offer up other Kardashian-inspired name options for the little girl. One option? Crystal Gardenia — aka the name of Kardashian's just-launched, crystal-inspired KKB Beauty fragrance. (Not exactly a bad guess, given that Kardashian actually gifted bottles of Crystal Gardenia to her baby shower guests!)
Others just tried to think of baby girl names they felt were pretty or meaningful in some way:
But others... well, let's just say the opportunity to come up with a hilarious Kardashian-West-style baby name was just too tempting for most of Twitter pass up. Take these alliterative gems, for example:
Or this brilliant list (I mean, how can Kimye possibly claim they're low on ideas when they obviously they should be naming their daughter "Mello West," or perhaps "Westess West" OMG):
One fan thought they'd go in for a baby name double-whammy and pick both a name for Kardashian's baby as well as her reportedly-pregnant younger sis, Kylie Jenner:
Some were in the mood for an animated '90s movie throwback moniker:
While others felt like a fruit-inspired name could be in order (and that maybe the shower's cherry blossom theme was actually a baby name clue?):
Kardashian did help out a little bit at least when it came with narrowing down the names she was considering — she told DeGeneres that she "likes different names, but short, easy to spell, one syllable." (I guess that means that Cherry Blossom and Crystal Gardenia might be out after all?)
But Kardashian has also reportedly claimed that she and West intended to name their third child "something normal," which caused a bit of concern among those on social media who may have taken the comment just a tad too literally:
In any case, it seems pretty safe to assume that the one-syllable name they do choose for the baby girl will be something we won't exactly be expecting — and that it'll probably be a name that's at least slightly unusual. Although at this point, my vote will still have to go to "South West." After all, could there be a more perfectly Kimye move than choosing the very name they worked so hard to convince the world they were totally against? You heard it here first, folks. South West is definitely about to be a thing.
Check out Romper's new video series, Romper's Doula Diaries:
Watch full episodes of Romper's Doula Diaries on Facebook Watch.