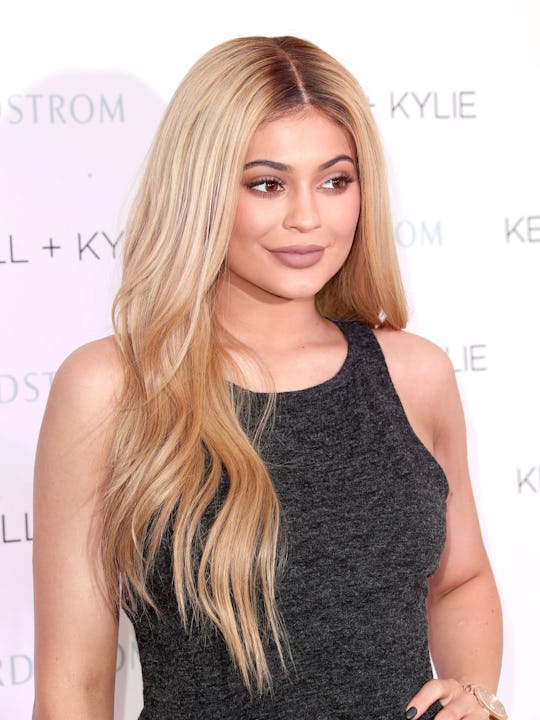 Frederick M. Brown/Getty Images Entertainment/Getty Images
Here's Why Kylie's Daughter's Last Name Might Not Be Jenner *Or* Scott
Kylie Jenner is for sure, for real, 100 percent a new mom. I know, guys, it felt like it was never going to be confirmed. What with the almost-reveals, the grainy paparazzi photos, the stalwart friends and family who refused to budge (bless them), Kylie officially announced her little girl's arrival on Sunday. And while fans were justifiably excited to have confirmation, not all questions were answered. For instance, nobody knows what Kylie Jenner's daughter's last name will be, let alone her first name.
Traditionally speaking, it feels like a safe bet to assume that Kylie's baby girl, who was born at a healthy 8 pounds on Feb. 1, will take on the last name of her father, rapper Travis Scott. If the rest of the Kardashian/Jenner clan are any indication, that seems to be the way things roll in that family.
Kim Kardashian-West's three children (4-year-old daughter North, 2-year-old son Saint, and new baby girl Chicago) all share the last name West with their father, rapper Kanye West. Kourtney Kardashian's three children with ex-partner Scott Disick (8-year-old son Mason, 5-year-old daughter Penelope, and 3-year-old son Reign) all have the last name Disick. And of course, mom Kris Jenner's children share their last name with their fathers; Robert Kardashian Sr. and Caitlyn Jenner.
So it stands to reason that the Life of Kylie star's little girl would take on her father's last name, right? Possibly, but that doesn't mean her last name will be Scott.
The new baby's last name could very well be Webster, as Scott's actual given name is Jacques Webster and Travis Scott is simply his professional, stage name. As ever with the Queen of Suspense, I have a feeling fans will be kept in the dark about the last name of the newest member of the KarJenner clan for some time to come. Because that's simply how Kylie rolls these days; keeping her pregnancy a well-guarded (though incredibly open) secret until she's ready to make the announcement herself.
On Super Bowl Sunday, no less, with a written message on her Instagram page and an 11-minute mini-documentary. Ostensibly dedicated to her new baby, but full of adorable little tidbits and even a rare sighting of sister Kim's new baby Chicago. Get ready for the mini documentary to be the only way people announce their pregnancies in the future... although can I just say that tennis star Serena Williams slightly beat Kylie to the punch with her pregnancy video for daughter Alexis Olympia Ohanian Jr.?
As much as fans have been left in the dark about the new baby's last name, there doesn't seem to be much news about her first name either. There have been plenty of conspiracies, of course. For instance, many fans seem to think that the Lip Kit mogul will give her baby a butterfly-inspired name, based on her history with boyfriend Travis Scott. The two got matching butterfly tattoos together last year, and Scott wrote a song called "Butterfly Effect." Others think mom Kris Jenner let the new baby's name slip on Instagram when she shared this pic on Instagram after the new baby was born.
These fans believe Kylie's baby might be named Posie, which could potentially be short for Mariposa (the Spanish word for butterfly). Then there's the new possibility that the baby's name might start with the letter "C," based on sister Khloé's giant C-shaped floral arrangement she sent to Kylie.
But here's the thing; we all live in Kylie Jenner's reality now. No one will know anything until she's good and ready to tell us. That being said, I'm sticking with my theory that the baby's last name will be Webster. I'm putting my money on Posie Webster. Until I read evidence to the contrary.
Check out Romper's new video series, Bearing The Motherload, where disagreeing parents from different sides of an issue sit down with a mediator and talk about how to support (and not judge) each other's parenting perspectives. New episodes air Mondays on Facebook.